Intel shares rise on higher profits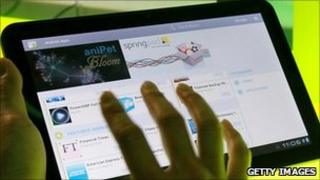 Shares in Intel, the world's largest chipmaker, closed up 7.8% after it said that its first quarter earnings rose by 29% to $3.16bn (£1.95bn).
Revenue was $12.8bn, 25% higher than 2010's $10.3bn.
Revenues in the current quarter are also set to equal that of the first quarter, beating analysts' forecasts.
Chief executive Paul Otellini confirmed Intel would use Google's latest version of its mobile platform designed for tablets.
Mr Otellini also said that Intel chips would be in smartphones, where it has lagged behind rivals, in the next 12 months.
He said Intel was working with Google, Microsoft's Windows system and Nokia's MeeGo platform on tablets - a market dominated currently by Apple's iPad.
'Outstanding results'
The company said strong spending by businesses on new computers had helped the company overcome both a serious product design error and the supply chain disruption from Japan's earthquake and tsunami.
Mr Otellini said: "These outstanding results, combined with our guidance for the second quarter, position us to achieve greater than 20% annual revenue growth."
The figures showed sales holding up strongly, despite fears that the growing popularity of smartphones and tablets will begin to eat into the computer chip business.
That business suffered a setback earlier this year when a fault was discovered leading to a recall.
Leading computer makers, including HP, Dell, Samsung and Lenovo had to halt sales of some machines in February because of problems with certain Intel chips.