Johnson & Johnson upbeat despite profits slide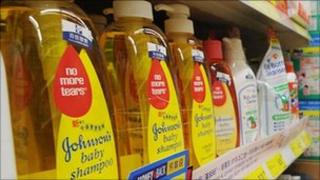 US healthcare giant Johnson & Johnson (J&J) has reported a sharp fall in first quarter profits, but the results were still better than forecast.
Net profit for the period was $3.5bn (£2.1bn), down from $4.5bn a year earlier. The company also raised its full-year earnings forecast.
The news sent J&J's share price 3% higher, making it the biggest riser on the Dow Jones at the open in New York.
Revenues of $16.2bn were up 3.5% from the same period a year earlier.
This was in large part due to strong prescription sales.
The weak dollar also helped, with international sales up 7.3%, offsetting a 0.7% decline in its US home market.
"The innovations we are bringing to the market, the changes we are implementing in manufacturing and quality, and the dedication of the people of Johnson & Johnson, give us great confidence in the future growth prospects of our business," said chief executive William Weldon.
J&J's results come one day after it was revealed that the company is in talks to buy Swiss prosthetics firm Synthes.
They also come at the same time that profits at Wall Street firm Goldman Sachs - which were down 20% - also beat very low market expectations.
"It is kind of nice to see a couple of big headline companies come in with positive surprises after a string of headline companies delivering negative surprises over the last week," said Fred Dickson of brokerage DA Davidson.