Greece faces higher borrowing costs as debt fears mount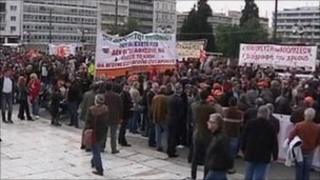 Fears that Greece will have to restructure its massive debts have persisted despite official denials.
Investors are demanding a higher rate of return for lending Greece money in a sign of continuing concern about its debt crisis.
The European Commission denied Greek media reports that Athens would have to reschedule its repayments to debtors.
On Tuesday, Greece raised 1.6bn euros (£1.4bn) - but had to pay a 4.1% yield against 3.8% paid in February.
The increase underlines the nervousness among investors about the likelihood of them being repaid or forced to accept a delay in repayment.
Tuesday's fund-raising was for money to be repaid in three months. On Monday, the rate of return on Greek benchmark 10-year government bonds jumped above 14% for the first time since the eurozone was created.
Analysts say such penal interest rates are completely unsustainable for an economy that is still gripped by recession.
Renewed concerns about Europe's debt problems hit shares in several banks, including Royal Bank of Scotland and Lloyds Banking Group.
On the London Bullion Market, the price of gold edged up to $1,494.02 an ounce from $1,493 late Monday.
Gold is benefiting from its status as a haven investment in troubled times. At one point on Monday its price had jumped to $1.497 an ounce after rating agency Standard & Poor's cut its outlook on the US to negative on worries that policymakers will not be able to agree a plan to reduce the growing US deficit.
'Firm denial'
As well as reports in Greece citing unnamed European Commission sources as saying that a debt restructuring was inevitable, a German finance official also warned on Tuesday that it looked unavoidable.
Clemens Fuest, chairman of the German finance ministry's technical advisory committee, told the Reuters news agency: "One must recognise the realities. (The interest payments) are breaking Greece."
However, a European Commission spokeswoman said speculation about a restructuring was unfounded.
"It is a very firm denial on our side. It's impossible that such a statement can be correct considering that there is not even such discussions taking place between the European authorities and the Greek government," she said.
Greece secured 110bn euros in emergency funding from its eurozone partners and the International Monetary Fund last May to cover bond maturities and budget shortfalls up to 2013.