Luxury brands seek Asian stock market listings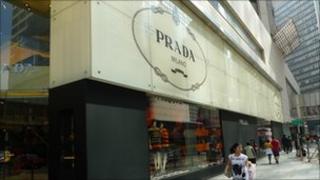 Luxury goods and fashion houses have long looked east for customers as China's nouveau riche splurge on designer brands.
But now some of these companies are shunning well-established financial centres in Europe and the US and looking to Asia as a place to sell shares, as well as handbags.
The most high-profile example is Italian fashion house Prada. It is preparing to go public on the Hong Kong stock exchange and could list there in summer.
US leather goods maker Coach may also list shares in Hong Kong, according to a report this month in the International Financing Review.
They are following in the footsteps of French skin care firm L'Occitane, which raised about 5.5bn Hong Kong dollars ($708m; £430m) by selling shares to investors in an initial public offering (IPO) in Hong Kong last year, becoming the only French company to be listed.
Luggage firm Samsonite, Italian motorcycle maker Ducati and Japanese fashion retailer Baroque, which owns the fashionable Moussy brand, are all also reported to be planning Hong Kong share listings this year.
Marketing tool
The reasoning is two-fold: Selling shares in Hong Kong acts as a great marketing tool, as well as an effective way to raise funds for expansion.
Over the next decade, China is expected to become the world's largest market for luxury goods, worth 74bn euros ($107bn), up from 9bn euros in 2010, according to a recent report by Asia-focused research firm CLSA.
Luxury handbags, clothing, watches and jewellery are the most favoured ways for Chinese to display their wealth, the report adds.
"If they want to capitalise on high growth in China, they have to be here," says Ben Kwong, chief operating officer at KGI Asia, a local stockbroker.
"By listing in Hong Kong, it makes brands more prominent," he adds
Like their rivals, both Prada and Coach have been expanding rapidly in Asia.
Prada has 14 stores in nine Chinese cities and a further eight outlets in Hong Kong, while Coach has 58 stores in China, Hong Kong and Macau.
Prada already generates more than a third of its sales in Asia.
IPO boom
Hong Kong has been the world's biggest market for IPOs for the past two years, eclipsing other major financial centres such as London and New York that have suffered in the aftermath of the global financial crisis.
Share offerings are typically well-received, both by big investors such as pension funds and individual investors, who have been known to queue round the block to secure shares in a hot IPO.
Hong Kong is also a gateway to reach Chinese investors, says Terence Ho, a specialist in IPOs in Greater China at consultancy Ernst & Young.
For now, foreign firms cannot list on China's main stock exchange in Shanghai. Chinese fund managers, who have only begun investing overseas relatively recently, tend to stick to markets close to home, such as Hong Kong.
Many rich Chinese individuals also now have Hong Kong bank and stock trading accounts, adds Mr Ho.
"For many mainland Chinese, it's not difficult to move funds to Hong Kong, "Mr Ho says.
Glamour quotient
If the Prada listing is a success, it would be a big coup for the stock exchange.
Prada, which also owns the Miu Miu brand and Church's shoes, would be the first Italian company to list here and only the second from Western Europe.
The company is owned by chief executive Patrizio Bertelli, his wife Miuccia Prada and her family, and is making its fifth attempt in the past decade at selling shares.
Prada's arrival would also add a touch of glamour to a bourse dominated by property developers, financial firms and industrial conglomerates.
Its main locally-listed peer would be the US-founded High Street fashion retailer Esprit, which caters to the mass market.
Hong Kong has long been the place to list for Chinese firms seeking to raise funds from overseas, but it is only recently that companies from elsewhere have been beating a path to its door.
The Hong Kong Stock Exchange has made efforts in recent years to woo European companies, as most of China's biggest firms have already made their market debuts here.
This approach is now bearing fruit, highlighting just how far some of the world's most venerable companies are prepared to go in order to court the Chinese market.
Even so, there is a downside for some.
Investors in Prada's hometown of Milan looking to buy stock in the 98-year-old firm will find themselves 5,800 miles (9335km) away from the action.