Norwich and Peterborough fined over Keydata policies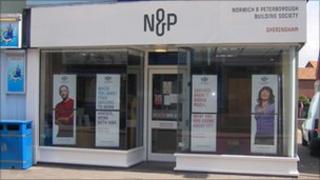 Norwich and Peterborough building society has been fined £1.4m for mis-selling investments to 3,200 customers.
The Financial Services Authority (FSA), which imposed the fine, said the society had failed to give them suitable advice.
The building society sold high-risk policies provided by the now insolvent Keydata investment firm, which the FSA says were inappropriate.
N&P apologised for the "hardship and anxiety" suffered by its customers.
The society has already agreed to make compensation payments totalling £51m.
"N&P failed in its basic duty to provide suitable advice to its customers, despite an internal compliance report pointing out that there were problems as early as 2007," said Tracey McDermott, the FSA's acting enforcement director.
"Firms cannot treat customers fairly unless they pay attention to their financial circumstances and attitude to risk when they make recommendations," she added.
Fraud
The problem for N&P customers, and thousands of other people who were sold Keydata polices by independent financial advisers, became evident when Keydata was closed down by the FSA in 2009.
The policies it sold had been based on second-hand life insurance policies bought from elderly people in the US.
The investors would earn a return when those people died and the life insurance policies paid out.
After Keydata's closure it swiftly emerged that £103m invested by 5,500 people in one set of policies, packaged for Keydata by a Luxembourg firm called SLS, had in fact been stolen in a fraud.
About £350m had been invested by another 23,000 people in another set of Keydata policies.
These polices were packaged for Keydata by another Luxembourg firm called Lifemark.
They stopped paying their expected monthly income and are still at risk while an administrator in Luxembourg tries to rescue Lifemark.
High risk
The FSA said the Keydata policies, sold by N&P over a period of three years, were unsuitable for the society's customers because of the risk they might not pay the promised rate of return, or give the customers their capital back.
Most of the N&P customers had told the society's sales advisers that they wanted only low risk investments.
Often these customers ended up investing an unhealthily large proportion of their savings in the inherently risky policies.
With an average age of 62 the customers had very little opportunity to make up for any investment losses.
The regulator revealed for the first time that N&P, which earned £2.7m in commission for selling the Keydata policies, knew as far back as 2007 that they might be unsuitable but took no action and continued to sell them vigorously.
"N&P failed properly to assess the financial circumstances of many of its customers, designating them as having a higher tolerance of risk than was appropriate," the FSA said.
"Some customers were moved out of low risk products such as deposit accounts into Keydata investments, putting their income and capital at risk.
"Many of these customers were approaching or already in retirement, and could not afford to lose their money," the regulator added.
The N&P is now in talks to be taken over by the Yorkshire Building Society, and Matthew Bullock, its long-standing chief executive, retired at the end of March.
The N&P's sales force of investment advisers was closed down last December but is now being investigated by the FSA to see if it was guilty of mis-selling any other investments.
The collapse of the Keydata has become the biggest problem yet for the Financial Services Compensation Scheme (FSCS) which has offered compensation to both sets of Keydata investors - SLS and Lifemark.
The management of Keydata is still being investigated by the Serious Fraud Office (SFO).