Toyota resumes production at Japanese plants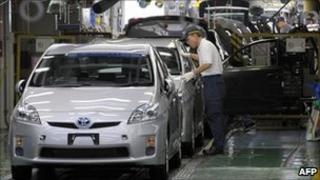 Toyota has now resumed car production at all of its plants in Japan for the first time since last month's earthquake and tsunami.
However, the world's biggest car manufacturer said that production would be half of its normal level because of parts shortages.
Toyota said it was unsure when full production would resume.
Since the disasters, Toyota has only been operating three plants with a limited output.
Toyota has been struggling to acquire about 150 different types of auto parts and has suffered a production loss of 260,000 cars since 11 March, spokeswoman Shiori Hashimoto said.
The carmaker's newest car factory, in Miyagi, was in one of the worst-hit areas in the disaster. More than 8,400 people have been killed in the area.
The 900 workers at Toyota's plant in Miyagi observed a minute's silence for the victims before starting work on Monday.
The earthquake and tsunami has left nearly 28,000 people dead or missing.