Profile: Who is Tesco's new boss Philip Clarke?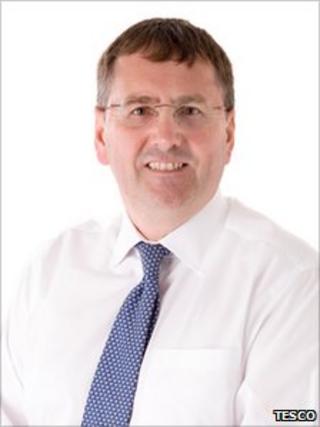 When it comes to announcing your company's full year results for the first time, Philip Clarke, the new boss of Tesco, finds himself under a more intense spotlight than most rookie chief executives.
As the head of a corporation which spans 14 countries, he has unveiled an 11% rise in profits before tax of £3.54bn ($5.75bn) less than seven weeks after taking over from the highly-acclaimed Sir Terry Leahy.
Mr Clarke, who has been with Tesco "all my working life" has experienced first hand the British supermarket's transformation into the world's third biggest retailer.
Like his predecessor, he comes from Liverpool and is an internal appointment who graduated through what analysts call 'the academy for retailers'.
Philip Clarke began his Tesco career as a 14-year-old back in 1974 stacking shelves during his school holidays in the stores his father managed.
After graduating from Liverpool University with a degree in economics he joined the Tesco Management Training Programme which provided him with a perfect platform to work his way to the top.
'Strategic appointment'
In 1998 he was appointed to the board with responsibility for the supply chain and a year later information technology was added to his brief.
"It was a very strategic move by Tesco to appoint Clarke as chief executive," suggested ManMohan Sodhi, professor in operations and supply chain management at Cass Business School.
"Clarke's experience as Chief Information Officer meant that he knew not only IT but also how the supply chain worked - everything from ordering and procurement to how a warehouse operates."
"It shows Tesco's determination to take on Walmart globally who are very good at using IT to extract every ounce of efficiency in the system. Mr Clarke will be able to bring in this crucial element which a lawyer or finance expert wouldn't be able to."
Six years into the role, Mr Clarke then became responsible for the businesses outside the UK, leading Tesco's entry into the huge markets of India and China.
Global expansion
Increasing Tesco's current 30 million customers worldwide by moving into new markets appears to be a clear strategy, and Tuesday's annual results showing trading profits in Asia rising by 30% suggests the company is having some success.
"My job is not about to look back, it is to look forward, heading up the Tesco group worldwide," Mr Clarke has said.
"Our international business is growing pretty fast and it's growing well. It's been my focus for the past six years and in some ways we're just at the beginning. We're going to globalise the best that we do."
This is the only the way that Tesco has a chance of growing at the rate it has enjoyed over the past decade, believes Rahul Sharma a retail analyst at Neev Capital.
"Tesco needs to go global. Growth opportunities in the UK are limited because of competition and we're not growing as a population at the speed the company would need to see its profits continue on the same trajectory."
Over the past ten years Tesco has expanded into countries across Europe and Asia but it has found the consumers of the United States a tougher nut to crack.
Challenges
Under the leadership of Mr Clarke, Tesco launched its Fresh & Easy stores in the US in 2007. But its expansion has not proved as successful as the group had hoped. The company has said its target is to break even in the US market by 2013.
"There is a question mark over Tesco's strategy in North America but it's a test I believe it can afford," said Mr Sharma.
"They expected it to be easier than it has been and quite frankly there are alot of places in emerging markets where they could make a lot more money."
Indeed Mr Sodhi thinks that Tesco's new chief executive should be looking towards Africa for new markets to tap in to and provide a better return for shareholders.
"I suspect Mr Clarke will keep Fresh & Easy on in the US, but it could fall down the priority list. Africa may be a good option to look at. As with everything if you get in to a market early you can strike good deals thus generating better revenues."
Another challenge facing the Tesco boss is the persistent lack of consumer confidence in the UK.
Last month, the British Retail Consortium recorded its worst fall in UK sales since records began in 1996. Footwear was the only growth sector, as food and drink, clothing, homeware, electrical, and others all fell.
And Tesco has been unable to escape the trend. Its like-for-like sales in the UK, excluding the impact of rising VAT and petrol, were flat for the year 2010/11 - an important factor for a company with 17 million customers in the UK and whose tills take one in every seven pounds spent in British shops.
"Tesco hasn't hit its ceiling in the UK but it needs to be more creative and find new markets outside of food. It needs to expand its Tesco bank, mobile communications and insurance services," advised Mr Sharma.
He added, "Mr Clarke needs to sharpen price image once again and should also be more open to the idea of recruiting external talent."