Moody's downgrades Irish banks' ratings to junk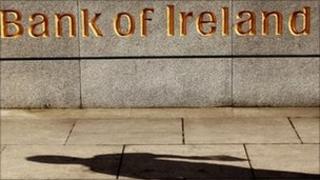 Credit ratings agency Moody's has downgraded its rating of Irish banks to junk status, adding renewed pressure on the eurozone's weaker countries.
It follows last week's downgrading by Moody's of the Irish Republic's sovereign debt rating.
Moody's downgraded the long-term bank deposit ratings of Allied Irish Banks, EBS and Irish Life & Permanent by two notches to Ba2.
Bank of Ireland was downgraded to Ba1, one notch above its rivals.
The move sent the Irish Republic's borrowing costs up, and came after a rare spell of positive news last week when Dublin passed a review of its economic progress by its international creditors.
Last month, the Republic's central bank disclosed that the cost of bailing out the bank sector could reach 70bn euros.
Last year, the country needed an international bail-out worth 85bn euros.
The International Monetary Fund and the European Union, which are providing the bulk of the rescue funds, said on Friday that the Republic was making "good progress" on overcoming its economic crisis.
However, Moody's remains concerned about Dublin's ability to push through a restructuring of its own debts and that of the now mainly-nationalised banking sector.
"Should the intended fiscal consolidation goals not be met, a further rating downgrade would likely follow," Moody's said in a statement.
"Moreover, a further deterioration in the country's economic outlook would also exert downward pressure on the rating."