Philips moves to end losses at ailing television arm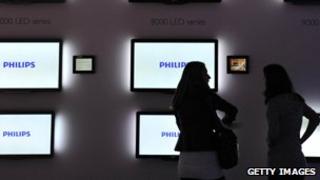 Dutch consumer electronics giant Philips is putting its struggling television arm into a joint venture.
The division has been a long-term drag on the finances of Philips, which reported a 31% fall in first quarter profits to 138m euros ($198m; £122m).
China's TPV, which makes desktop and TV monitors, will take 70% of the joint venture, with Philips owning the rest.
"Finding a solution for our television business was our top priority," said chief executive Frans van Houten.
Philips has an option to sell the remaining 30% to TPV after six years.
Mr van Houten, who has a reputation as a business restructuring expert, took over as chief executive on 1 April.
Philips' television business was once a global leader, but competition eroded its dominance and the division is estimated to have lost almost 1bn euros in the past four years.
Philips currently licenses its TVs to TPV in China, as well as Funai in the US and Videocom in India.
The company's first-quarter profits were below analysts' forecasts. A Reuters poll of analysts had forecast quarterly net profit would drop 19.5% to 161m euros.
Philips is the world's biggest lighting maker, a top three hospital equipment maker, and Europe's biggest consumer electronics producer.