UK companies need to spend more, says Item Club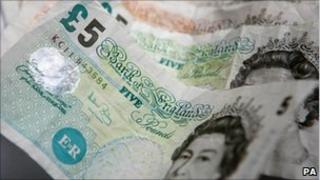 UK firms must start spending their spare cash to ensure a durable economic recovery, a report has said.
The Ernst & Young Item Club said that with consumers under pressure, it was even more important for businesses to loosen their purse strings.
The research group said it expected the best opportunities lay in overseas expansion, but failing that, cash should be returned to shareholders.
The Item Club expects the UK economy to grow by 1.8% this year.
It then forecasts the growth rate will rise to 2.3% in 2012 and 2.7% in 2013.
Overseas expansion
"Large companies are in a position to actually pull us out of this," Peter Spencer, chief economic adviser to the Item Club, told the BBC.
He said in the report that companies' spare cashflows equated to nearly 7% of GDP.
"If you're an overseas-facing company with good investment opportunities, you should be looking to invest that [spare cash] properly," he said, adding that even many small businesses were starting to see international business opportunities for the first time.
Otherwise, he said the money should be given back to shareholders through dividends or share buy-backs.
His call came as a report from company registrations firm Capita Registrars showed that dividend payments by UK firms had risen by 10.3% in the first quarter of 2011.
In its spring forecast, the Item Club said the stage was now set for "a major revival" in business spending.
It forecast a 12% increase in business investment this year and a 14% rise next year.
"The purse strings are starting to loosen, with some spending on vehicles and other easy asset purchases beginning to take place," said Mr Spencer.
"If UK companies want to increase their capacity and capitalise on the opportunities that come from an improving world economy, they will need to extend spending to plant and machinery, buildings and overseas market development."
Pressure on consumers
But the Item Club report said the squeeze on UK households would continue and - in light of this - said any rise in interest rates would be "perverse at this stage".
It said the Bank of England Monetary Policy Committee should maintain rates at their record low of 0.5% until November, "when a revival should be evident".
"The budget arithmetic for the consumer doesn't add up," Mr Spencer told the BBC.
He said that over the past decade a lot of households had been "in denial of the fact that they were under pressure from global forces in the labour market with relatively low wage growth", and had been "borrowing effectively to get round the problem".
With the credit boom having come to a sticky end, UK consumers were now in no position to drive the recovery, the Item Club said.
Cutbacks
Meanwhile, two other surveys suggested that UK firms have continued to cut back their spending in some areas.
Spending on advertising in the past three months fell for a second consecutive quarter, according to research by the Institute of Practitioners in Advertising (IPA).
Some 25% of the 300 firms surveyed by the IPA said they had cut their spending, compared with 20% who reported an increase, largely due to fears about the impact on the recovery of rising inflation and government spending cuts.
Separately, the Federation of Small Businesses (FSB) said that its members had continued to report job cuts in the past three months.
The share of companies reducing staff numbers was 6.5 percentage points greater than the proportion reporting net hiring, the FSB said in its latest quarterly survey.
That balance had increased from 3.2 percentage points in December, suggesting employment conditions have worsened.
This was despite the fact that confidence among the FSB's members rebounded strongly in the past three months, according to its latest survey.