BP shareholders call for further assets sale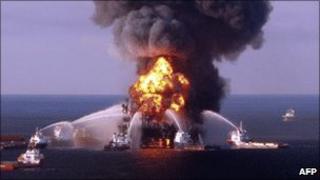 Some of BP's largest shareholders are calling for the oil firm to sell off up to half its assets as part of a radical restructuring, a newspaper says.
BP has already sold assets worth $24bn (£14.7bn) under plans to divest $30bn by the end of 2011 in order to pay for the Gulf of Mexico oil spill.
But some of the firm's top 10 investors want the company to sell another $30bn worth of assets, the Sunday Times said.
BP said it was "comfortable" with its current level of fundraising.
"The $30bn will cover the costs of the Gulf of Mexico clean-up and the compensation fund," a company spokesman said.
'Making a difference'
BP chief Bob Dudley said in July that the company would emerge from the Gulf of Mexico oil spill crisis "a smaller and wiser company".
One investor quoted in the Sunday Times said: "Recent asset sales show that there are lots of buyers for these assets out there and it's a fantastic opportunity to wind up half the company.
"It's about shrinking to a size where gross investment makes a meaningful difference to bottom line."
The report also said that some investors had raised fresh concerns about the performance of BP's chairman, Carl-Henric Svanberg.
But BP said: "He received just over 92% of the vote in being re-elected as chairman for another year. Considering the year BP had in 2010, that is strong support from shareholders."
Mr Svanberg was re-elected at last week's annual general meeting, at which the company faced angry demonstrations from US fishermen, as well as UK trade unionists and environmentalists.
BP also remains locked in conflict with its Russian partners in joint venture TNK-BP over its planned $16bn (£10bn) share swap with Russia's state-owned oil firm Rosneft.