Youngsters make their own job opportunities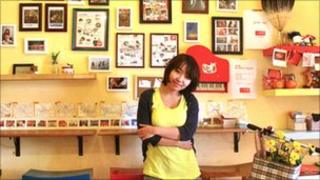 Young people are creating jobs for themselves which would otherwise not be available to them during the economic downturn.
A lack of prospects for young people has been one of the key issues in the recent unrest in the Middle East and North Africa, where a quarter of the region's youth are unemployed.
Furthermore, young people around the world have been the worst hit by the global economic crisis.
In 2010 the International Labour Organization released figures estimating that 13% of those under 24 worldwide were out of work - the highest figure to date.
Inspirations
The Global Entrepreneurship Monitor estimates that around 120 million people around the world, aged between 18 and 34, are in the process of starting their own businesses.
And an additional 300 million already run their own ventures.
Jared O'Toole, the 25-year-old founder of Under30CEO - a network of young entrepreneurs in the US - has witnessed how young Americans view corporate jobs and the traditional career path during the economic downturn.
"Many of the young people I work with have seen that even the corporate world is insecure, and some of the biggest banks just crumbled," he says.
"That has made the prospect of running their own businesses seem less risky and more attractive."
Furthermore, they have been inspired by the success stories of other young entrepreneurs, such as the founders of Google and Facebook, and there is an increasing desire for young people to follow their passions.
"The increased interest in entrepreneurship is also a lifestyle issue," says Mr O'Toole.
"They want to work hard doing what they love. Getting away from the regular nine-to-five is a common desire we hear about."
Emancipation
This view is shared in other parts of the world and can be of special relevance to young women wanting to feel fulfilled in both their professional and family lives.
"There is pressure on young women to get married and have children," says Lebanese entrepreneur Samia El Solh, who runs the Young Arab Women Entrepreneurs network and is the editor of Push Magazine for young Middle Eastern businesswomen.
"But they are also keen on success at work and financial independence," she says.
As that can be difficult to reconcile within the regular job structure involving long inflexible hours, there is an incentive for such women to strike out alone.
"The new generation is more educated, they are aware of their options and they want to get more out of life," she maintains.
"There are also women who are very creative, and this is why they are becoming entrepreneurs as they feel that they have a lot to give and they want to produce something."
Identity
According to Kevin Lee, of the youth-focused consultancy China Youthology, Chinese youth is also rewriting their traditional notions of success.
Despite China's strong economic performance, half of new graduates have difficulties finding jobs within the first year, although this is not the biggest driver for their interest in entrepreneurial activity.
While the country's many technology graduates are setting up tech-related start-ups with ambitions of global success, there has also been a rise in smaller businesses, such as cafes, handicraft companies and small retail shops.
"Their motivations really come from their ideas of what they want their life to be. There has been a reformation of their definition of success," Mr Lee says.
"Historically, Chinese people have defined success as money or status, but we see in the post-'80s generations that these are being rivalled by good relationships with family and friends and time for your own interests."
China's youth are also placing more emphasis on exploring their identities, and regular jobs do not allow them the time to do this.
Now these smaller companies are being used as a vehicle in which to do so.
"They feel their business is an extension of their personal space and their personal identity," explains Mr Lee.
He believes that this inward search is also likely to affect the nature of China's economy, slowly turning it from the factory of the world to its crafts room.
"These smaller shops are building infrastructure for more cottage industries, of going back to craftsmanship and a different philosophy of what products can be."
Passion
While many young entrepreneurs are motivated by the prospect of doing what they love, some are also using their businesses as vehicles for social progress.
Italian oral surgeon and entrepreneur Linnea Passaler uses her website patzienti.org to allow patients to rate medical services.
While passionate about both medicine and technology, she is also hoping to inspire Italy's youth.
"We are facing a moment of social crisis in Italy," she says. "I want to show young Italians that it is possible to have an idea and to make it happen, that you can make it in Italy without connections."
With over a quarter of under-24s unemployed in Italy, Ms Passaler says that young people feel the status quo works against them and that getting anything done can be a struggle.
"This year marks the 150th anniversary of Italy's reunification," Ms Passaler continues.
"It is a very important moment for our national values. My dream is to show the youth that you can have values and do something socially beneficial - and make money too."