China's economy expands 9.7% as inflation accelerates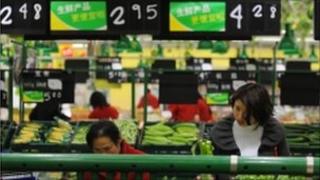 China's economy continued its boom in March and inflation accelerated to the fastest rate since 2008.
Growth was at a faster-than-expected 9.7% between January and March from the same period a year earlier, the National Bureau of Statistics said.
Consumer prices rose by 5.4% in March compared with a year earlier. In February, the annual figure was 4.9%.
The government has been taking steps to try to cool property and food prices.
Chinese inflation has been accelerating despite four interest rate rises since October.
"The figures are higher than market expectation, especially the CPI (consumer prices index), which means the inflationary pressure is really big," said Nie Wen from Hwabao Trust in Shanghai.
"So I think the tightening measure will continue."
Tackling inflation
Chinese President Hu Jintao said on Friday that China's economic growth was still unbalanced.
He pledged to boost the role of domestic consumption in the economy.
Mr Hu made the comments at Asia's version of the World Economic Forum, taking place in Boao on the Chinese Island of Hainan.
This week, Prime Minister Wen Jiabao said that the government would use all the tools at its disposal to tackle inflation.
"We will try every means to stabilise prices, the top priority of our economic controls this year and also our most pressing task," Mr Wen said at a cabinet meeting.
Food prices
Rising food prices have been the main cause of inflation. The cost of food was up 11.7% in the year to March. Housing costs have also risen sharply.
Prices have also been driven up by demand. Retail sales in the first quarter of the year were up 16.3% on a year ago.
In another sign of the impact of strong growth, oil demand for February increased by 10.3% on a year ago, driving global oil prices higher.
The Chinese central bank has increased the amount of money Chinese banks need to keep as a reserve in order to limit lending and to try to control inflation.
Analysts are expecting the bank to order further increases alongside possible interest rate rises.