Zimbabwe profits from mining rights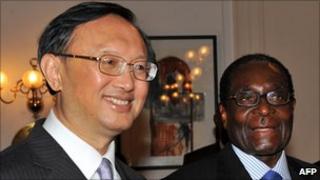 Zimbabwe appears to have created a "win-win" situation for itself with legislation giving locals 51% control of the country's mining industry.
President Robert Mugabe calls the policy "indigenisation" whereby, under a controversial law that came into force last year, all foreign companies operating in Zimbabwe were given five years to hand over a controlling share to local companies.
But with rumours of a snap election the programme has been intensifying.
The new law targets the mining sector, the country's biggest source of export revenue.
It requires that indigenous Zimbabweans must have a 51% stake of all companies by September 2011.
If the government's stance does drive away some of the companies already operating in Zimbabwe, there are others which will be happy to exploit the country's resources.
"The country can then benefit from increased Chinese investment instead of almost non-existent western investment," says Robert Besseling at Exclusive Analysis.
Public doubts
According to Mr Mugabe, the idea is to empower the masses, whereas others say it will cripple industry and impoverish Zimbabwe yet further.
Some of those who ostensibly stand to gain from the indigenisation process have doubts as to who really will benefit.
Wishart Mashipe, the director of a small company that came out of a youth empowerment project, is disappointed about recently losing out on a tender to run gold milling centres for the government.
The bulk of the deal has gone to a company registered in the British Virgin Islands.
"It is these kinds of things which result in people saying the indigenous process is reserved for the powers that be," he says.
He believes that to keep the momentum and the excitement flowing for the youth, there has to be a few success stories.
"I hope there are other indigenous people who have a better success story to tell," he laments.
National benefits
President Mugabe is fully behind the moves for mining companies and other foreign owned businesses to give a majority shareholding to indigenous Zimbabweans.
The plan is, that through government-run organisations such as the Zimbabwe Mining Development Corporation, various groups will be empowered - war veterans, youth, women's groups and entrepreneurs short of capital.
Supa Mandiwanzira, a prominent figure in black empowerment for many years, says that the mining companies, particularly the multinationals, have given indigenous Zimbabweans a very raw deal.
"For many years they have been extracting serious wealth out of our country and much of this wealth has not come back to the people of Zimbabwe but has been externalised," he says.
With Zimbabwe coming out of a decade-long crisis of hyper-inflation, hunger and political violence, the government does not have the cash to buy a controlling stake in mining companies, some of which are valued at a billion dollars or more.
'Forced transfer'
According to Harare-based economist John Robertson, the value of the government's 51% in any company will be the sovereign rights to the minerals underground.
"But a forced transfer of shares is very much a property rights issue because the owners of the mines are having to relinquish not only 51% of their shares, but also control over an enterprise they have built," he says.
The platinum mining company ZimPlats, which is 87% South African owned, is one specifically mentioned by president Mugabe as a company that should be taken over by his government.
In a statement, Zimplats say the company is in discussion with the government regarding compliance with the indigenisation act.
The share price of Zimplat's majority shareholder, Impala Platinum, fell by 3% on the Johannesburg stock exchange as soon as details of latest indigenisation legislation emerged.
Working partnerships
Mr Robertson believes the legislation will have a profound effect on Zimbabwe's mining industry.
"If government does become the effective owner of the mining industry, new mining development will come to almost a complete standstill," he asserts.
There might be a few exceptions - coal can be mined at not very great depth.
"But minerals which are some hundreds of metres underground will remain undiscovered," he says.
"And people who know about some of these things at the moment will probably decide not to reveal their knowledge and simply wait for a different administration to come to the country and make the business of investing in the extraction of such minerals more profitable," he maintains.
But Mr Mandiwanzira believes the sheer abundance of Zimbabwe's mineral resources will continue to attract investors.
"There is no investment that will be scared away on the basis that Zimbabwe has the resources that the world requires," he says.
"If you have the second largest proven resource of platinum in the whole world, how are you going to scare away investment because they still want that platinum?" he asks.
He advocates that clever companies will come in and give the 51% to indigenous companies, work with indigenous people, and make more money because they will have the Zimbabwean people on their side.
"And they will be allowed to make as much profit as they like and take it out of country," he says.
Chinese investors
Zimbabwe also has a back-up plan, which allows them to attract Chinese investment.
In March, Zimbabwe's government signed a loan package agreement with China worth $585m - which is the largest such package in Zimbabwe's history.
It covers a wide variety of sectors including education, health care but it also includes direct financing of the government for the amount of $100m.
A risk to rely so heavily on one nation?
"Zimbabwe has a huge amount of platinum and gold and an unprojected amount of diamonds," says Robert Besseling.
"So for China there is certainly a huge commercial potential, especially with western companies pulling out or being pushed out, for China and other countries such as Korea and India to move in instead."
The major issue for the Mugabe government is that they have not been able to cancel the sanctions and they have not been able to restore budgetary aid especially by the western countries.
"For China and other countries which have become recent investors and which have not imposed sanctions on the regime, they have been given promises that any future or even past investments will not be at risk of being expropriated," Mr Besseling says.
There have been reports however, that Chinese investments are very unpopular, just as they are in Angola and Zambia.
"But we have to differentiate between the popular appeal and the government's opinion," he says.
He adds: The government realises that despite public sentiment against China, it has to attract non-traditional investors in order to secure a revenue flow."