Jobcentre call staff set to go on strike this month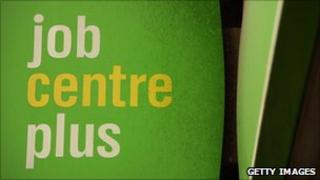 Thousands of Jobcentre staff are to go on strike this month in a dispute over working conditions and management targets.
The Public and Commercial Services union (PCS) said its members in 37 call centres would walk out on 18 April.
It follows the breakdown of negotiations after a 70% vote in favour of strike action on the 24 March.
The Department for Work and Pensions (DWP) said it was disappointed by the decision.
In January, union members staged a two-day strike at seven centres.
The DWP announced a revamp of its telephone and benefit processing service in October 2009.
The January action started after a decision to convert seven benefit processing offices into "contact centres," with staff re-allocated to taking calls from the public.
Since then the dispute has broadened to include staff at all 37 contact centres.
"We are being prevented from providing a good quality service to the public because of unnecessary and unrealistic call centre targets," said Jane Aitchison, president of the PCS department for work and pensions.
"It is outrageous that standards are being driven down in Jobcentre Plus," added PCS general secretary Mark Serwotka.
The DWP said call centre staff retained good terms of employment.
"We use performance measures to ensure that performance and productivity are high, and we deliver value for money for the taxpayer," said a spokesperson.
The strike ballot of 7,000 union members had a turnout of 43%.
The union said there could be further strikes if no agreement was reached.