GE to build the US's largest solar panel factory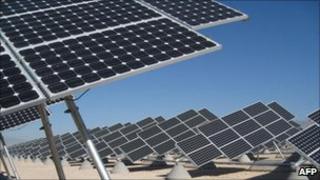 Manufacturing giant General Electric (GE) has announced plans to build the largest solar panel factory in the US.
The firm is planning to invest $600m (£375m) in the plant which they hope will be operational by 2013.
GE has not yet said where it will be built with a location expected to be announced within the next hundred days.
The move is part of a push into renewable energy by GE, which recently bought US solar firm PrimeStar Solar and plans to buy 25,000 electric cars.
The new plant will employ 400 people and each year it will manufacture solar panels with a capacity of 400MW.
Renewable push
It will use so-called thin-film technology - which the firm acquired when it bought PrimeStar.
The technology could make it easier and cheaper to install panels that can be "rolled" onto buildings.
It is part of the company's move into renewable energy. Its wind division now generates about $6bn in annual sales.
GE says manufacturing solar panels at scale will increase efficiency and drive down cost.
"We see ourselves continuing to push that and continuing to move efficiency and as a result the costs of solar continue to come down," said Victor Abate, vice president of GE's renewable energy unit.
Last week General Electric agreed a $3.2bn deal to buy Converteam, a French company that makes equipment to allow electricity from solar and wind power to be used by the grid.
The firm will compete with market leader First Solar and a number of start-ups which have benefited from federal grants.
Catch up
The conglomerate continues to make the bulk of its revenue from other products, including equipment for coal, gas and nuclear plants.
Whilst the new plant may be the largest in the US, experts expect Chinese firms to continue to outstrip their US rivals.
"In 2008 China roared past us like we were standing still in solar and in 2009 they roared past us in wind - they came from nowhere they did it all in a decade," said Professor Bill Moomaw Director of the Center for International Environment and Resource Policy at Tufts University.
In January, US President Barack Obama said the country needed another "Sputnik moment" to wean itself off foreign oil.