Spain economy gets IMF vote of confidence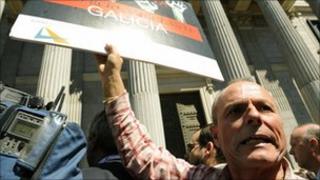 Spain has no need of an international financial rescue, according to Dominique Strauss-Kahn, head of the International Monetary Fund (IMF).
"I don't believe that the Spanish government needs any type of financial aid," he said in an interview with the Spanish newspaper El Pais.
The comments will be seen as a vote of confidence that austerity measures imposed by Madrid could be working.
The IMF is a key body monitoring Europe's debt-laden economies.
"We have not received any request for help from the Spanish government," Mr Strauss-Kahn said.
"I believe that the policies that the Spanish government has implemented, as much on the fiscal side as in the reform of pensions, the labour market or in banking, are the correct policies," he continued.
"And what I see is that over the last few months, Spain has been put in the same bag as other countries, such as Greece, when they are clearly not in the same situation," he said.
Downgrades
Greece and Ireland have already tapped into rescue funds created by the international community, and there is growing belief that Portugal will have to do so soon.
The markets, however, remain sceptical about Spain's debt problems, caused by the global financial crisis and the collapse of the country's property sector.
Last month, Moody's sliced Spain's long-term credit rating by a notch to Aa2 and warned it may do so again.
The ratings agency expressed scepticism that the government had done all it could do to improve public finances and restructure its banking system.
Moody's has downgraded the credit ratings of 30 Spanish banks.