US Federal Reserve 'divided' over future policy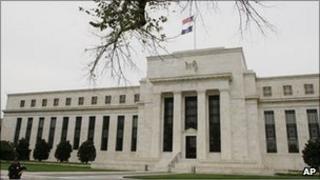 Policy makers at the US Federal Reserve differed last month over the course future monetary policy should take.
The Fed's $600bn (£375bn) Treasury bond-purchase plan, designed to boost the economy, is due to end in June.
Minutes of the Fed's March meeting revealed that some members thought the central bank should move to tighter conditions before the year end.
But others thought the Fed should maintain an easy monetary policy course next year.
"A few participants indicated that economic conditions might warrant a move toward less-accommodative monetary policy this year; a few others noted that exceptional policy accommodation could be appropriate beyond 2011," the minutes revealed.
At the meeting all 10 members of the Fed's policy-making committee voted to hold interest rates at near zero and to continue with the asset-purchase plan.
However, "a few members noted that evidence of a stronger recovery, or of higher inflation or rising inflation expectations, could make it appropriate to reduce the pace or overall size of the purchase program".
Inflation fears
Fed officials also raised concerns that a big jump in energy prices could threaten economic growth and push up inflation.
"A significant increase in longer-term inflation expectations could contribute to excessive wage and price inflation, which would be costly to eradicate," the minutes said.
However, overall the committee expected any rise to be "transitory" and believed underlying inflation trends would be unaffected.
Committee members also noted that "unfolding events in the Middle East and North Africa, along with the recent earthquake, tsunami, and subsequent developments in Japan, had further increased uncertainty about the economic outlook".