BA raises long-haul fuel surcharges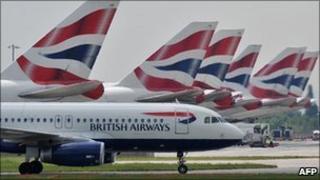 British Airways is increasing its fuel surcharge on long-haul flights because of high oil prices.
The airline said that the surcharge for economy seats would rise by £10 per flight and for premium tickets by £20 per flight from Friday, 8 April.
It is not increasing surcharges for domestic or short-haul flights.
Oil prices are currently at two-and-a-half year highs, with Brent crude trading at nearly $122 a barrel, pushed up by concerns about the Middle East.
BA's increase means that economy passengers on long-haul flights of less than nine hours will see their surcharge going up from £75 to £85.
The surcharge on economy flights of more than nine hours will rise from £88 to £98.
Business and first class passengers will see the surcharge for flights under nine hours go up from £105 to £125, and for flights of more than nine hours rise from £125 to £145.
"As customers will know from the price at the petrol pumps, the cost of fuel has continued to rise significantly over the past three months. For us, fuel now represents over one-third of our costs and particularly affects our long-haul flights," Nick Swift, BA's chief financial officer, said.
"We are very aware of the wider economic pressures on our customers at the moment and we will bear the vast majority of the recent fuel price rise ourselves to keep this increase in surcharge to a minimum."
Surcharges were introduced to help airlines with the rising cost of fuel and have come to make up a significant part of the price of an airline ticket.
The latest announcement marks the third time BA has raised surcharges since December.
Last month, tour operator Thomas Cook introduced a new fuel surcharge to the cost of its holidays - an extra levy of £15 per holiday for short-haul flights, rising to £40 for long-haul flights.
Profits threat
Earlier on Tuesday, International Airlines Group (IAG), the company formed by the merger of BA and Iberia, said that passenger numbers in March had risen 6.3%.
IAG said it carried 4.16 million passengers last month, up on the 3.92 million carried by BA and Iberia in March 2010.
The group said the rise was driven by continued growth in first and business class travel.
But the international air transport association, IATA, has warned that global airline profits will halve this year because of rising oil prices.
Political unrest in the Middle East as well as the earthquake in Japan and the continuing concerns about the damaged nuclear power plant are also expected to squeeze air traffic growth.