Pringles sold by P&G to Kettle Chips firm Diamond Foods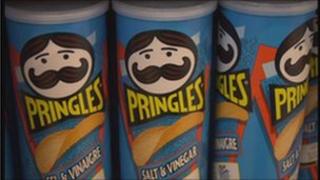 Consumer products giant Procter & Gamble is to sell its Pringles snacks business to the owner of Kettle Chips, Diamond Foods.
The $2.35bn (£1.44bn) deal will see Diamond pay $1.5bn for Pringles and take on $850m of its debt.
Bob McDonald, chief executive of P&G, said it was a "terrific deal for our shareholders".
Pringles is the world's largest potato crisp brand with sales in more than 140 countries.
But as a food brand, Pringles stood out as the exception in P&G's portfolio, which owns dozens of personal care and household product brands.
Expansion
Under the terms of the deal, a new entity will be formed to hold the Pringles business and then merged into Diamond Foods. P&G shareholders will own about 57% of the new company, with Diamond shareholders owning the rest.
Diamond Foods, which owns Pop Secret microwave popcorn and the Kettle brand, says adding Pringles to the group will more than triple the size of its snack business.
"Pringles is an iconic, billion dollar snack brand with significant global manufacturing and supply chain infrastructure," said Michael J. Mendes, chief executive of Diamond Foods.
"This strategic combination will create an independent, global leader in the snack industry with a focus on quality and innovative products."