Portugal downgraded by Moody's on further debt concerns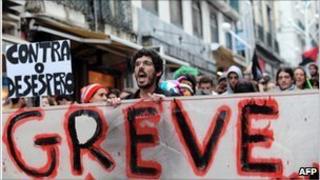 Ratings agency Moody's has downgraded Portuguese government debt by one notch, to Baa1 from A3, and warned that a further cut may be necessary.
This is the second downgrade by Moody's in less than a month and follows fellow agency Standard & Poor's cut last week.
Moody's said its decision was "driven primarily by increased political, budgetary and economic uncertainty".
The move heightens concerns Portugal will be forced to ask its European partners for a financial bail-out.
Last week, the Portuguese government admitted it had missed its budget deficit target for 2010.
The total was 8.6% of economic output, above the European Union's target of 7.3%.
Moody's said the increased uncertainty in the country heightened the risks that "the government will be unable to achieve [its] ambitious deficit reduction targets" in the next three years.
Yields on Portuguese government debt rose slightly following the downgrade, to 8.54% from 8.47% on Monday, reflecting heightened concern about its ability to pay back its debts.
Such high rates are seen as unsustainable in the long run.
Portugal has not yet called for any financial assistance, but many analysts believe it is just a matter of time before it is forced to do so as the country's economic situation worsens and its cost of borrowing on the markets rises.