New Zealand's firms pessimistic after deadly earthquake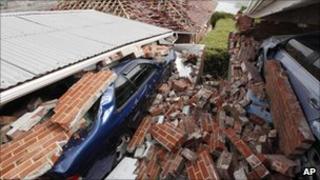 New Zealand's business confidence dropped between January and March, after the deadly earthquake in Christchurch.
A net 27% of companies surveyed said they expected the economy to deteriorate over the next six months, according to the New Zealand Institute of Economic Research (NZIER).
In the previous survey more firms had a positive outlook than a negative one.
The data is another indicator that the economy may see little growth.
The NZIER said that about 40% of the firms affected by the earthquake were not able to respond.
Those that did respond pointed to weak profits and likely job losses.
Last month Central Bank Governor Allan Bollard cut the main interest rate by half a percentage point to try and give the economy a boost.
"Current weak inflation and sluggish economic activity mean the Reserve Bank of New Zealand can hold the official cash rate at 2.5% for the rest of 2011," said Shamubeel Eaqub, chief economist at the NZIER.
Estimates put the cost of the 22 February earthquake in Christchurch at close to NZ$20bn ($15bn; £9.3bn).