Saab production stopped after parts deliveries halted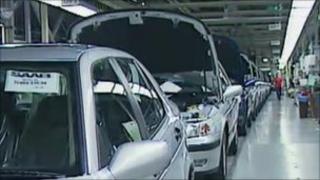 Component shortages have resulted in car production being stopped at Saab's Trollhaettan factory.
Several parts suppliers in Sweden have halted deliveries after Saab failed to pay them, according to the Swedish suppliers' organisation FKG.
Saab's chairman Victor Muller said on Monday that Saab was "not on the verge of collapse".
But this did not mollify suppliers who fear for Saab's financial health.
"They cannot pay their bills," said FKG chief executive Svenake Berglie.
But Saab spokeswoman Gunilla Gustavs said: "We are working intensively to make sure the flow gets going again. We are having discussions with suppliers and doing our best to come to mutual agreements."
Conditional loan
Before the weekend, parent company Spyker's annual report revealed that Saab urgently requires extra funds to keep going.
Saab's acute cash-flow problem might seem surprising, given that last year's takeover was backed by a 400m-euros (£350m; $566.4m) loan from the European Investment Bank.
But that loan was earmarked for 80 pre-determined engineering projects.
Some 240m euros has already been spent to help Saab prepare for an ambitious product roll-out over the next few months.
"The company will have, by October 2012, the newest and widest product range it has ever had in its 64-year history," according to Mr Muller.
That leaves just 160m euros for Saab to push through its business plan, however.
This may prove too little for Saab, given that the annual interest payments on its debts alone mount up to 40m euros, and that it suffered a loss of 218m euros last year.
Spyker's share price has fallen more than 35% since January.
"Spyker is heavily under-capitalised compared with the potential sales of 180,000 Saab cars," according to Tom Muller, analyst at Dutch private bank Theodoor Gilissen.
"In the end, the capital structure needs to change with more equity."
'Biggest supporter'
Deep in the red and short of the several hundred million euros needed to start repaying Saab's loans, Mr Muller believes his former business partner, the Russian banker Vladimir Antonov, could provide a solution.
In February, Mr Antonov bought Spyker's tiny, loss-making supercar unit of the same name for 32m euros.
And he is ready to inject fresh cash into Saab as well.
"I would immediately allow him back in," Mr Muller told BBC News in an interview late last month.
"He has been one of the biggest supporters the company has ever seen."
Controversial investor
Mr Muller is not permitted to allow Mr Antonov onboard as an investor, however, without permission from the Swedish debt office, which guarantees Saab's 400m-euros loan, and the European Investment Bank.
A formal request to clear Mr Antonov is currently under consideration, although it will take weeks rather than days before a decision is made, according to the Swedish debt office.
It is unclear whether the US automotive giant General Motors, which sold Saab to Spyker just over a year ago in a deal worth $74m (£45.6m; 52.2m euros), will have a say.
At the time of the deal, Mr Antonov held a large stake in Spyker, but was forced to pull out because GM refused to deal with him.
GM still owns shares in Saab, but has no formal power to speak of.
However, it remains an important supplier and might thus still wield a great deal of influence over how the company is run. GM declined to comment.
Neither Mr Muller nor several Saab press officers responded to emails requesting an interview with the chairman on Tuesday.