UK economy faces 'worrying' times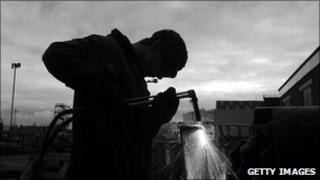 The UK faces a fragile economic recovery, with a worrying overall picture, according to the British Chambers of Commerce (BCC).
The BCC's latest quarterly survey said firms faced cashflow constraints.
However, the survey also suggested that the economy returned to growth in the first three months of the year.
Separate data suggested the UK services sector grew in March at its fastest pace in more than a year, providing further evidence of economic recovery.
The Markit/CIPS Purchasing Managers' Index (PMI) rose to 57.1, a "marked improvement" on the 52.6 recorded in February.
Markit and the Chartered Institute of Personnel Managers, which compile the index, said employment had risen for the first time in nine months, while sales and new business enquiries had also increased.
Together with more positive recent data from the manufacturing sector, Markit's senior economist Paul Smith said the latest PMI services data suggested economic growth of 0.8% in the first quarter of this year.
The BCC was slightly less optimistic in its forecast for the quarter.
"The upturn in Q1 is likely to have been only slightly larger than the decline of 0.5% seen in Q4 2010", when the severe weather caused disruptions, it said.
That would mean output levels were only "marginally higher" than they were before the weather took its toll, it added.
The Office for National Statistics (ONS) will release its first estimate of GDP for the first quarter on 27 April.
Falling confidence
The BCC, which questioned 6,000 businesses across the UK, said firms were being constrained by cashflow and price pressures.
Some 80% of manufacturing firms said the cost of raw materials was putting pressure on them to raise prices.
While exporting activity remained strong, there had been declines in confidence and domestic demand, with cashflow remaining a "real concern for businesses," the group said.
Inflation was the primary concern for UK businesses, the BCC's chief economist, David Kern, told the BBC.
However, he said the government had no choice but to go ahead with its planned spending cuts.
"The austerity plan has to be implemented, while it is important to pursue the growth strategies outlined in the Budget," he said.
He stressed that the Bank of England must not raise interest rates in the coming months, as this would "squeeze the fragile [economic] upturn".
"It is incumbent on the Monetary Policy Committee not to raise rates," he said.
To do so prematurely would be a "massive mistake," he argued.