Spain's jobless level hits record high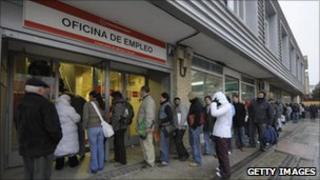 The number of Spanish people filing for unemployment benefits rose for its eighth consecutive month in March.
The benefit claimant count rose by 34,406 people, to a new record of 4.3 million, the Labour Ministry said.
Spain's total jobless rate is released separately every three months, and includes those not claiming benefits.
In February this number stood at 4.7 million people, about 20.5% of the population, and more than twice the eurozone average.
Spain's government has imposed tough austerity measures to reduce its debts, and does not expect the economy to start creating jobs until the end of the year at the earliest.
The March data showed the services sector, which makes up around 70% of the country's economy, saw the highest number of layoffs.
There was some relief for the embattled construction sector, which saw its unemployment level fall 4.4%.
"The fact that (overall unemployment) rose again despite indicators showing a cyclical recovery in Spain clouds the outlook for the economy and does not bode well for demand," said Silvio Peruzzo, economist at Royal Bank of Scotland.
Youth unemployment remained a critical problem, with 12,830 lay-offs in March hitting people under 25 years old.
European Union data showed that youth unemployment in Spain was 43.5% in February.