Vodafone to sell SFR mobile phone stake to Vivendi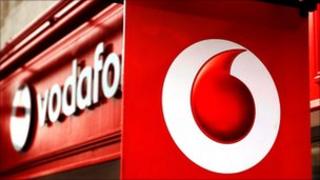 Vodafone is to sell its 44% stake in the French mobile phone operator SFR to Vivendi for 7.95bn euros (£7bn).
The deal gives Vivendi, France's biggest mobile phone business, full control of SFR and ends months of talks with Vodafone.
The UK company has been slimming down its portfolio, and recently sold stakes in Chinese and Japanese mobile operators.
Vodafone will return £4bn to its shareholders by buying back shares.
The UK company's chief executive, Vittorio Colao, said in a statement that Vodafone would continue sales of some assets in operations it does not control.
"The sale of our stake in SFR, at an attractive multiple, represents a significant further step in the execution of this strategy," he said.
Vodafone has already sold its minority stakes in China Mobile and Japanese carrier SoftBank. The UK company is also looking sell its interest in Poland's Polkomtel.
Last month Deutsche Telecom, agreed to sell its T-Mobile America business to AT&T for $39bn (£24bn).
Stronger markets
Analysts predicted more restructuring and assets sales in the industry as telecoms giants look to raise money to invest in their networks.
Robin Bienenstock, analyst at Sanford Bernstein, said the Vodafone and Deutsche deals reflect a desire to exit countries where they had non-controlling interests to focus on markets where they were stronger.
"You're going to see a massive portfolio clean-up among telecom operators because they need capital to reinvest in their core networks.
"The only way to do that is to jettison the weak stuff and plough money into the markets where you are stronger. This is a scale game."
Vivendi operates a range of businesses, including Universal Music, the record label behind Lady Gaga, Justin Bieber and Rihanna.
It also controls video games maker Activision Blizzard, Brazilian telecom company GVT, and Canal Plus television.
Vodafone's deal with Vivendi is expected to be completed by June.