H&M blames higher cotton prices for profits fall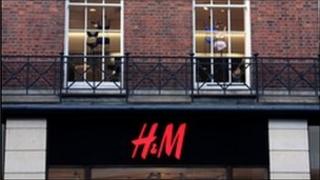 Swedish fashion retailer Hennes & Mauritz has said its profits fell by 30% in the first quarter of the year.
The company blamed higher cotton prices and the "negative effect" of the strong Swedish krona.
During December to February, H&M said profits dropped to 2.62bn kronor ($417m; £259m), from 3.54bn kronor in the same period a year ago.
In early Stockholm trading, shares in H&M dropped 4% following the update and ended the day down 3.2%.
The budget fashion firm also reported broadly flat sales at 24.5bn kronor.
It was the third quarter in a row that the company had fallen short of its profit and sales forecasts.
Rising costs
A strong currency hampers international producers as it makes their goods more expensive to buy abroad and can lead to a reduction in demand.
H&M was also hit by higher cotton prices and increased transportation costs.
The price of cotton has risen more than 140% over the past six months, while the price of crude oil is more than 30% higher than it was 12 months ago.
The world's second-biggest fashion retailer by sales said it was aiming to increase its market share.
"Instead of passing on these costs increases to customers, we chose to strengthen our price position in order to build further on our strong market position for the long-term," said chief executive Karl-Johan Persson.
Analysts had mixed views on the company's strategy.
"H&M is taking a very large gamble to re-adjust its pricing and commercial proposition at a very difficult time for the industry, said Simon Irwin from Liberum Capital.
"The near-term pain from this is clear in results, however there is little evidence that it is working in terms of driving customer perceptions or driving sales."
However, Soren Lontoft Hansen from Sydbank believed the strategy was the right one.
"They should be able to take market share in the long term so, from my perspective, it's a very good strategy," he said.