Junior Isa savings launch date announced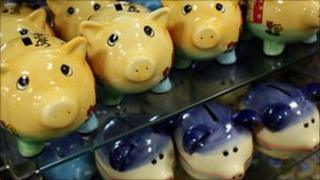 A new tax-free savings account for children, known as the Junior Isa, will be available from 1 November, the government has confirmed.
The Individual Savings Account (Isa) will have an annual contribution limit of up to £3,000 in cash and shares.
The government said last autumn that it was considering the investment scheme, and has now published draft regulations for consultation.
Junior Isas will replace Child Trust Funds, which have been phased out.
Savings pot
Investments in Child Trust Funds (CTFs) have a £1,200 annual limit, but the new Junior Isas will have a £3,000 limit.
But, unlike CTFs, there will be no government contributions into each child's savings pot.
Junior Isas will be offered by High Street banks, building societies and other providers that currently offer Isas to adults.
"Junior Isas are a great example of a simple, clear and jargon-free financial product that allows families to save and invest for their child's future," said Mark Hoban, financial secretary to the Treasury.
"They allow parents and family friends to contribute to children's savings and will strengthen the savings culture."
One potential provider - Fidelity International - has calculated that if a parent invested the full allowance of £3,000 each year they could accumulate savings of £107,923 by the time their child reached 18, based on growth of 5% a year.
"Young people often have the greatest opportunity to benefit from the long-term performance of stock markets and the Junior Isa will allow them to do so in a tax-efficient way, while also learning about the benefits of saving," said Tom Stevenson, Investment Director at Fidelity International.
But Stefan Maryniak, of price comparison website Uswitch, said: "With no government contributions, parents will be fighting a lone battle.
"With many struggling to make ends meet in the face of the rising cost of living, those who want to take advantage should look to reduce the cost of their essential household bills to free up some cash which can then be invested in a Junior Isa for their child's future."
Lock
Money invested in Junior Isas will be "locked in" until the child is 18, and the Isa will then, by default, become an adult one.
Children are currently limited in the amount of tax they can shield from HM Revenue and Customs (HMRC). Junior Isas will be a way of side-stepping this limit.
The Treasury has estimated that six million children will be eligible for Junior Isas at launch, with 800,000 more eligible each year after that.
Consultation on the government's regulations will continue until May.