Viewpoint: Nicolas Sarkozy's G20 China visit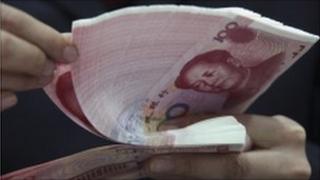 French President Nicolas Sarkozy is in Nanjing, China for a meeting of G20. The aim is to discuss global monetary policy reform, but one expert tells us that the controversial topic of the Chinese currency will likely creep onto the agenda.
Nicolas Sarkozy has been criticising Chinese currency policy for the past few years.
His concern is not unfounded as the yuan has depreciated 5.2% against the euro since the beginning of this year, even though it gained 0.5% against the US dollar during the same period.
China's trading partners, including France, say the country has an export advantage because of a cheap currency.
Not bowing
However, the outcome of the meeting, at least as far as the yuan is concerned, is likely to be inconclusive.
China will reiterate its stance to keep the yuan appreciation at its own pace.
In fact, China's central bank has recently said that it wants to keep the currency stable at a reasonable level.
This is also confirmed by the fact that a one-time revaluation has been excluded from China's policy toolkit.
But the other thing that might prevent officials from letting the yuan appreciate faster is the Chinese habit of not bowing to international pressure.
Its key trading partners, including the US, have been turning up that pressure in recent months.
So a material impact from this round of G20 meeting on China's currency policy is not expected.
Pay-off
But global leaders' patience on yuan appreciation may bear fruit in the long run.
It is in China's interest to allow its currency to appreciate on a gradual basis.
Most analysts agree a rising yuan will play a role in curbing China's high inflation.
A gradually appreciating yuan will also help China build its nascent offshore yuan market.
It will give investors and exporters the incentive to accumulate the currency.
We expect the US dollar to trend down against the yuan to 6.3500 this year from current 6.5600 level and decline further in 2011 by an annualised 3-5%.
Increasing influence
With the rising influence of the Chinese economy, some researchers say the yuan is a candidate for a new global reserve currency.
Seeing as the yuan is not a fully convertible currency, this may still take at least five years.
However, the yuan is already emerging as a trade settlement currency in North Asia and South East Asia.
Total trade settled in yuan in 2010 surged to 506.3bn yuan, about 2.5% of China's total trade in 2010, from almost zero in 2009.
The yuan will play a more important role in global trade settlement in the next few years.
That, along with the development of the offshore yuan market, will likely lead to the yuan becoming a new global reserve currency at some stage.
Tommy Xie works as an economist in Singapore for OCBC Bank. He focuses on Treasury Research & Strategy. The opinions expressed are those of the author and are not held by the BBC unless specifically stated. The material is for general information only and does not constitute investment, tax, legal or other form of advice. You should not rely on this information to make (or refrain from making) any decisions. Links to external sites are for information only and do not constitute endorsement. Always obtain independent, professional advice for your own particular situation.