American Airlines cuts flights to Japan as demand falls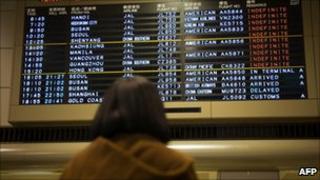 American Airlines is reducing the number of flights to Japan as travel demand to the country continues to fall.
The airline said it would suspend two of its six daily flights to Japan from 6 April.
Other international airlines such as Delta and Qantas have also announced a reduction in capacity to Japan.
Travel demand has been falling due to fears of radiation leak after the 11 March earthquake and tsunami.
American Airlines did not specify how much of its traffic on the Japan-US route had decreased since the earthquake and tsunami hit Japan's north-east coast.
The routes being temporarily suspended are from New York to Tokyo's Haneda Airport and from Dallas to Tokyo's Narita Airport.
Earlier this week, Japan's national carrier Japan Airlines (JAL) announced that passenger numbers on its international routes had fallen 25% since 11 March.
Despite the falling numbers, American Airlines said it would go ahead with its joint venture with JAL which is scheduled to be launched on 1 April.