Times and Sunday Times digital subscriptions rise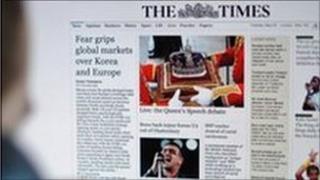 The Times and The Sunday Times had 79,000 monthly digital subscribers at the end of February - up 29,000 over the previous five months.
The figures, released by the publications' owner News International, are closely watched to see if the 'paywall' model is making progress.
There were 228,000 joint print/digital and digital-only subscribers to The Times and Sunday Times.
Chief executive Rebekah Brooks said she was "delighted" with the figures.
The company said the total number of people paying to read The Times - print or digital - had increased by 3%.
This reflects the rise in digital subscribers, as circulation of the printed Times has fallen sharply over the past year.
News Corp charges £2 a week for access to The Times and Sunday Times websites.
The Times and The Sunday Times lost more than 90% of their online readers when they started charging.
On Monday, The New York Times launched a pay model for digital access.