Royal Dutch Shell to sell Stanlow refinery for $1.3bn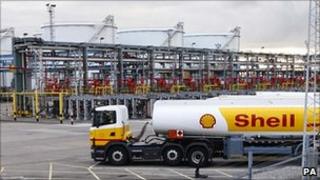 Royal Dutch Shell has agreed to sell Stanlow refinery, the UK's second-biggest oil refinery, to India's Essar Energy in a deal worth $1.3bn (£814m).
The Stanlow plant near Ellesmere Port employs 960 people and accounts for about 15% of total production from the UK's oil refineries.
Essar said it had no plans to make any redundancies at the plant, which refines 270,000 barrels of oil a day.
The deal is expected to be completed in the second half of this year.
'Regional benefit'
Shell said the deal was part of its drive to focus on larger assets.
"On completion, [the sale] means we will have reduced our global refining exposure through a combination of asset sales and closures by a total of 1.6 million barrels since 2002," said Mark Williams, the company's downstream director.
Frank Willsdon, general manager of Stanlow, said the deal served the refinery's future well.
"It can only benefit staff, business partners and the local community and region," he said.
"After many years with Shell, we now look forward to a smooth transition and moving forward with Essar."