US house prices continue dramatic fall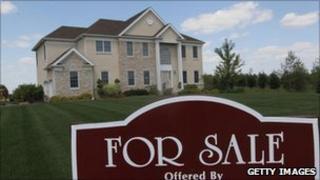 US single-family home prices fell for the seventh month in a row in January, new statistics show.
Seasonally adjusted prices fell in 12 of the 20 metropolitan areas tracked by the S&P/Case-Shiller index.
In four cities, prices were at their lowest in 11 years, with the overall index down 0.2% in January from the previous month.
The average annual price fall across the 20 cities was 3.1%; only Washington DC saw a meaningful rise in prices.
House prices in the US capital city, which in general has fared better than the rest of the country during recent economic downturn, gained 3.6% over the year.
San Diego was flat at 0.1% above January's price a year ago.
S&P's David Blitzer said worse declines could lie ahead.
"The housing market recession is not yet over, and none of the statistics are indicating any form of sustained recovery," he said.
"Keeping with the trends set in late 2010, January brings us weakening home prices with no real hope in sight for the near future.
"At most, we have seen all statistics bounce along their troughs; at worst, the feared double-dip recession may be materializing."
In Atlanta, Cleveland, Detroit and Las Vegas, average house prices remain below 2000 levels. House prices in Phoenix, in the US state of Arizona, showed the most drastic decline with a 9.1% fall from the previous year.
The index tracks the prices of typical single-family homes in each of the metropolitan areas surveyed.
The declines come as other economic indicators show signs of recovery.
Consumer spending has been rising and manufacturing activity is growing at the fastest rate in seven years.