British Airways cabin crew vote to strike again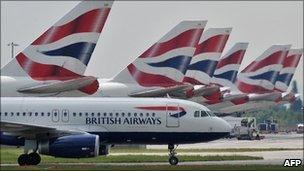 Cabin crew at British Airways have voted overwhelmingly in favour of new strike action.
The vote opens the possibility of strikes over Easter, although union sources have previously played down the prospect of any April walk-out.
The ballot was a re-run of an invalid vote held before Christmas.
The row began about cost-cutting but now centres on travel concessions taken from striking staff and disciplinary action against Unite union members.
The latest ballot - the fourth in less than two years - saw 5,811 Unite members vote in favour of strike action, while 1,170 voted against. The turnout was 72%.
The union now has 28 days to announce any strike dates.
Len McCluskey, Unite general secretary, said: "This vote shows that cabin crew remain determined to win justice.
"We urge BA's boardroom to see this as a clear message that they must think again about how to regain the trust and confidence of a significant part of their cabin crew operation."
Mr McCluskey added that the union was still "in discussions" with BA in an attempt to find a solution to the dispute.
BA stressed the need to find a resolution to the dispute.
"This is a time for co-operation, not confrontation," BA said.
"We began talks with Unite earlier this month, and those talks are continuing. We hope they will bring an end to this dispute, which is what the overwhelming majority of our cabin crew want."
BA has already said that, in the event of a strike, it will run all long-haul and many short-haul flights.
The dispute has already led to 22 days of strike action and has cost the airline more than £150m.
The dispute started in November 2009, when BA reduced the number of cabin crew on some long-haul flights from 15 to 14, and introduced a two-year pay freeze from 2010.
This led to a series of strikes in the spring and summer of last year.
Following these strikes, BA removed the travel concessions of those who took part, with some also facing disciplinary action.
It is this action by BA that is now central to the dispute, Unite says.
It wants the restoration of travel perks in full, arbitration through Acas of all cabin crew disciplinary cases related to the dispute, and restoration of pay to those who were genuinely sick during the dispute.
It also wants a full discussion about how BA has handled industrial relations within the company.
Related Internet Links
The BBC is not responsible for the content of external sites.