Warning follows tax code blunder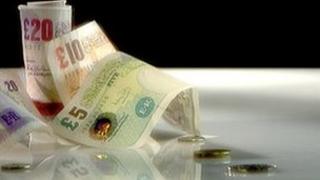 Pensioners should be aware of fraudsters taking advantage of an error by the UK tax authority, experts have warned.
Some 146,000 pensioners will get an unexpected tax bill for several hundred pounds in the next few months.
HM Revenue and Customs (HMRC) did not take account of their state pension when working out tax in 2010-11.
Experts stress that those affected will receive a letter and so should ignore calls and e-mails from fraudsters.
Mistake
The error by HMRC affects an estimated 146,000 people who have had a state pension and a private income.
HMRC failed to add the state pension on to their other income before it worked out the code for deducting tax on their pay or private pension.
As a result, the state pension has not been taxed and the people affected will normally owe tax of 20% of the pension paid in this tax year.
Consequently, they have paid too little tax for the last 12 months. HMRC will ask them to repay an average of £800, but it could be a lot more for people with a state pension of more than £100 a week, who reached pension age early in the tax year.
HMRC admitted the error but said repayments would be spread over three years from 2012.
Letters
HMRC told BBC Radio 4's Money Box that because the mistake was found in the current tax year, it had no legal power to write off the estimated £130m which was owed.
It also said it would not be fair to other taxpayers to write it off.
A spokesman said the letters about the tax due would be posted to those affected over the next few months.
People who receive them can ring a dedicated helpline, which will be set up next week, for assistance, but payments would automatically be spread over three tax years.
Tax consultant Adrian Huston said that any initial contact from HMRC would always be made by letter.
He said people should be aware that some fraudsters took advantage of such HMRC mistakes - by sending out official looking e-mails demanding payments or bank details. These should be ignored, he said.
Criticism
Andrew Harrop, of Age UK, said: "Coming at a time when many pensioners are feeling financially stretched, HMRC's error will be a source of serious concern for older people on modest incomes.
"When the taxman makes mistakes, older taxpayers should not have to pay the price, and we would have liked to have seen the repayments written off. It is essential that those affected are informed as soon as possible, allowing them time to put money aside for the extra cost.
"If HMRC has no option but to collect underpaid tax, they should at the very least ensure people are informed that if their income goes down because they are paying more tax, they may be entitled to benefits they weren't previously able to claim."
The mistake is the latest of a string of issues about tax codes that have led to criticism of HMRC.
"HMRC says it has sorted out all the problems of the past and can start again with the future ahead of us," said Conservative MP Ian Liddell-Grainger, who chairs the All-Party Parliamentary Group on Taxation.
"But we now realise that is not the case at all. We have an enormous amount of work to do with HMRC."
The long-term solution was to make politicians directly responsible for tax collection, he said.
"The Revenue is the only government department that does not have direct ministerial control. There should be a minister directly responsible for HMRC," he said.