Li Ka-shing's Hutchison finally sees 3G profits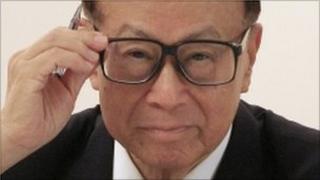 Hutchison Whampoa, owned by billionaire Li Ka-shing, has seen its third generation (3G) mobile phone business turn a profit for the first time.
The Hong Kong conglomerate reported net profit of 20bn Hong Kong dollars ($2.6bn; £1.6bn) in 2010, a 47% increase from the year before.
The 3G venture has racked up losses of 158bn Hong Kong dollars since services began in 2003.
This had prompted many to question Mr Li's legendary deal-making prowess.
Mr Li said Hutchison had entered "a new era" and the 3G business would no longer be a "drag on profit".
Hutchison's business interests span the globe.
The company has 51 ports and 9,300 stores, including the retailer Superdrug, as well as property and energy investments.
Its 3G business contributed 2.9bn Hong Kong dollars in 2010, compared with a loss of 8.9bn Hong Kong dollars in 2009.
The technology was slow to take off, but has fared much better recently as more consumers switch to smartphones and use the devices to surf the internet, analysts say.
"I still don't think this necessarily means that 3G has proved to be a good investment but it does change the investment outlook," said Cusson Leung, an analyst at Credit Suisse in Hong Kong before the results were released.
"It's not losing money any more and that will be reflected in the share price."
Hutchison's Hong Kong-listed shares have jumped by about 70% since August after Mr Li said he would increase shareholder dividends once 3G stopped making a loss.
Humble start
Mr Li's business empire had humble beginnings.
Born in 1928, he built up a plastic flower manufacturing business before investing in Hong Kong property in the 1960s when prices were low.
Mr Li's businesses now dominate in every facet of life in Hong Kong.
He controls the territory's main supermarket and pharmacy chains as well as electricity and telecommunication providers. Mr Li's Cheung Kong Holdings is also a major developer - about one in seven private residences here were developed by the group.
Sometimes likened to US investor Warren Buffett, his pronouncements are closely followed by people in Hong Kong.
In March 2009, Mr Li said it was a good time to buy stocks if you had spare cash, boosting Hong Kong's Hang Seng stock index.
And at the height of the financial crisis in September 2008, Mr Li let it be known that he was buying shares in Bank Of East Asia, a vote of confidence that quickly put an end to a run on one of Asia's oldest banks.
Nicknamed superman for his investment savvy, one of Mr Li's best-known deals was when he sold the Orange mobile phone business to German firm Mannesmann in 1999 at the height of the dotcom boom, making a profit of US$15bn.