Libyan rebels 'sign oil export deal with Qatar'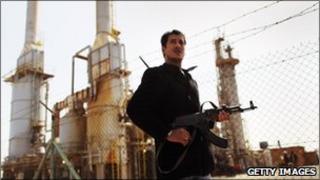 Libyan rebels say they have signed an oil contract with Qatar to export oil from rebel-held territory.
"We are producing about 100,000 to 130,000 barrels a day, we can easily up that to about 300,000 a day," rebel spokesman Ali Tarhouni told the Associated Press.
He said that shipments of crude would start in "less than a week".
The rebels say their main concern is obtaining insurance for any tankers taking oil from Libya.
Libya produces 1.6m barrels per day of oil but analysts believe this has fallen by at least two-thirds since unrest began last month.