Construction expert lands top businesswoman award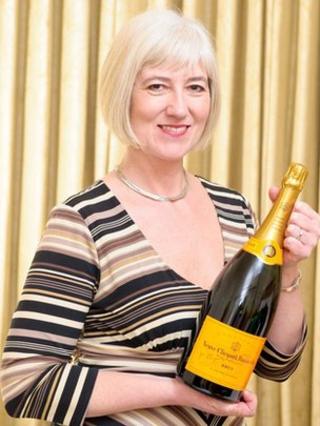 Civil engineer Michelle McDowell has been named Veuve Clicquot Businesswoman of the year.
BDP's chair of civil and structural engineering was singled out for work on low-carbon building and promoting engineering as a career for all.
"I'm absolutely delighted. Its an opportunity for a fantastic platform," Ms McDowell, 47, said.
Among the projects the construction expert has worked on are the recent revamp of Wimbledon lawn tennis club.
She was also the driving force behind a £70m redevelopment of the Royal Albert Hall in London.
Ms McDowell, from Garvagh, Co Londonderry, Northern Ireland, began her career more than 25 years ago, after being persuaded into the arena by what she calls "a fluke".
At her school careers advisers tended to push girls good at maths into medicine, but she wanted to "do something creative and practical".
So when her father brought home a leaflet on a residential school for engineers, she signed up for the week in Sheffield and her love of engineering began.
During the week everything "just fell into place" for her about how she could use the subjects she enjoyed .
Better design
At work, as well as pushing her firm towards its current £96m turnover, Ms McDowell is also known for her conviction that architects and engineers thinking together from the start of a project will produce better building design - a belief that she has put into projects such as bringing schools to deprived areas across the UK.
"We are delighted that the judges have selected a winner who fully embraces the nature of the awards and can provide inspiration for other up and coming entrepreneurs," Elsa Corbineau, Brand Director of Veuve Clicquot said.
"Michelle has proven that commercial success can be achieved alongside acting as an ethical business and it is wonderful to see a stand out business woman actively championing the next generation of female entrepreneurs."
Ms McDowell says she has had to work hard to promote engineering for women and women within engineering.
"Women are scarce, perhaps it's the image of construction - dirty, muddy boots; an unreconstructed working environment. But now the image is transforming, even on site.
"I've had to show a level of determination and hard work and make it easier for others to come through - through encouragement and bursaries. Even just two weeks in a design office or on a construction site can make it gel that it's a career for someone rather than something to settle for," she added.
The Veuve Clicquot award was first presented in 1972 and recognises the role played by successful businesswomen in Britain.