Vauxhall plant in Luton secured by Vivaro decision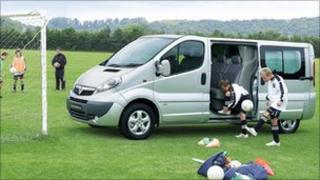 The future of the Vauxhall plant in Luton has been secured after a decision was made to build the new Vivaro van at the UK site.
It had been feared that the site would close in the next few years.
The union said the decision, which will safeguard 1,130 jobs, was "fantastic" news.
Owner Vauxhall, the UK arm of General Motors, said the site would continue to play an "important role" in its manufacturing network.
An existing contract between Vauxhall and French counterpart Renault to use the site had been due to run out in 2013.
Grateful union
The decision to continue production at Luton comes after the two car companies agreed last September to extend their collaboration on light commercial vehicle manufacturing, which first began in 1996.
The factory will continue to produce 62,000 units per year, according to the Unite union.
Meanwhile, production of Renault's new Trafic van - also a product of the two firms' partnership - as well as the high-roof Vivaro will be moved to Renault's Sandouille plant in Normandy.
"Without a new model, Luton would have closed," said Len McCluskey, general secretary of the Unite union.
"The efforts of Vauxhall's chairman, Nick Reilly, were pivotal in securing an agreement with Renault, and we are extremely grateful for the part he played."
He added that the hard work and savings made by the workforce also played a major role in rescuing what is the last volume manufacturer of commercial vans left in the UK.
1,500 jobs have been preserved - including several hundred at companies that supply the Luton plant - according to Business Secretary Vince Cable, and Luton's future is now assured beyond 2020.
"This is exactly the kind of manufacturing success story that we are keen to promote in the UK and I am proud that we in government have played our part in that success."
He claimed the government's offer to help the bankrupt General Motors restructure its European operations last year - albeit not taken up by the US firm - had "paid dividends".