Cheapest homes 'found in Burnley'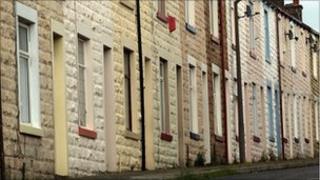 Burnley has the cheapest homes to buy anywhere in England and Wales, according to a property website.
Four out of five of the most affordable streets can be found in the Lancashire town, the poll by Mouseprice.com found.
The cheapest homes were found on Angle Street, where the average property cost £32,400 in the last year.
Earlier research by the website found that homes in Victoria Road in Kensington, west London, cost the most - averaging £6.4m.
Burnley, an industrial market town with a population of just under 80,000, is in the heart of the Pennines. It boasts a Championship football side, with celebrity fans such as Tony Blair's former spokesman, Alastair Campbell.
Funding argument
Elmwood Street, Spencer Street, and Colville Street - all in Burnley - are also in the five most affordable streets in the Mouseprice rankings, along with Fernhill in Mountain Ash, near Merthyr Tydfill.
Steve Rumbelow, the chief executive of Burnley Council, said he accepted the town had a "relatively low-price housing market", but insisted this was being addressed by its housing market renewal programme.
"We know that we have got some housing market issues in Burnley that we are setting about sorting out. We have been doing it for a number of years and we're on the right track.
"We've got some issues with funding because we're in argument with the government at the moment about getting some funding back to carry on what we have started."
Government funding for housing market renewal was cut in 2010, leaving some schemes - including a number in east Lancashire - incomplete.
Land Registry
The North West of England dominates the list, with 13 of the 20 most affordable streets. Five are in the North East of England and two in Wales.
The list might include properties in streets which had not sold in normal free-market conditions, a Mouseprice spokesman said. This could include "right to buy" and compulsory purchase schemes, or areas already subject to demolition and regeneration.
The survey was based on Land Registry sale price statistics and updated with valuation data gathered from surveyors. Average values were narrowed down to postcode level using an automated system.
Streets are excluded from the rankings if they contain very few residential properties, have had very few recent property transactions or do not have consistent house prices.
An earlier Mouseprice survey found that 14 of the 20 most expensive streets in England and Wales were in the London borough of Kensington and Chelsea.