Budget 2011: Drivers say fuel prices went up in advance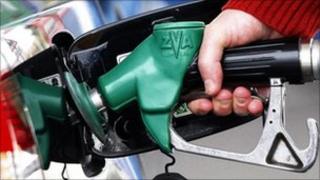 George Osborne's instant 1p reduction in fuel duty was a genuine surprise, but drivers have been contacting the BBC to accuse their local garages of raising prices in advance.
So instead of paying less to fill up their tanks, they are paying more.
Nye Davis from Basingstoke noticed that his nearest garage had raised the price of diesel by 2p yesterday, from 139.9p a litre on Tuesday to 141.9p.
Petrol retailers said the price they pay for fuel had been rising.
"I was pretty angry and upset," Mr Davis said. "To the consumer it sends out completely the wrong message."
Other drivers reported that they had seen prices go up by a penny, so the cut in duty simply puts them back where they were a few days ago.
Petrol retailers respond that they have faced a rise in their own costs this week, which they have had to pass on to drivers.
"In the last three days the price of diesel has gone up by a penny a litre and unleaded is up by 2p," said Brian Madderson of RMI Petrol, which represents 6,000 independent retailers.
While supermarkets and some oil companies purchase supplies a week or more ahead, his members tended to buy fuel from day to day, he said.
Cost spillover
Political instability in the Middle East and North Africa has been putting upward pressure on the price of oil.
As the price of crude has risen, the cost increases have spilled over to refined products such as petrol and diesel.
The average price of fuel on the forecourt has crept up inexorably over the last month according to Experian Catalist, an information firm which tracks the market.
Unleaded petrol was 133.53p on average yesterday, 4.5p higher than a month ago. Diesel was an average of 140.26p, a rise of nearly 6p.
Another complaint from fuel buyers is that the 1p duty cut simply hasn't been passed on as promised.
The chancellor said in his Budget speech that the cut in duty would take effect at 1800GMT.
However, a number of drivers reported no change in prices on their local forecourts, either last night or today.
Brian Madderson said that the lack of movement was entirely the chancellor's fault.
"We did say [to the government] don't implement any cut until 1 April," he explained. "They haven't listened to us."
Paid upfront
Garages buy their stock duty-paid. So implementing a duty reduction immediately leaves them out of pocket.
It could take a day or two for a busy retailer to use up all the stocks it holds in tanks under the forecourt. A rural garage might not need to buy more petrol and diesel for a week.
In his Budget the chancellor scrapped the policy of raising fuel duty by inflation plus a penny each year.
Duty will still go up in line with inflation, but this April's inflation increase will be postponed until January next year, giving motorists a nine-month breathing space in addition to last night's one-off cut.
Without Mr Osborne's decision, petrol and diesel would have been 6p more expensive per litre from April.
The reductions will be paid for by a £2bn windfall tax on North Sea oil producers.
But Labour has questioned the tactic, predicting that the producers will recoup their losses by adding to the price of fuel.
Ministers have poured scorn on the claim, pointing out that the fuel business is so competitive that oil companies will find it hard to make back their £2bn on the forecourt.