China's untapped potential attracts global film makers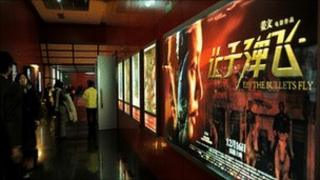 Rich in promise, China has so far been short on sales for overseas film makers and distributors vying for the attention of the country's potential 200 million middle-class moviegoers.
Strict government quotas on foreign films, rampant piracy, fickle government censors - all make the path to market tricky.
Industry representatives from the US, France, South Korea and Japan attending Hong Kong's International Film and Television Market (Filmart) trade fair this week painted a fairly downbeat picture of their prospects in the world's second-largest economy, although Hong Kong's own film industry has fared much better.
"Mainland China is difficult," says Asusa Soya, executive producer at UniJapan, an organisation that promotes Japanese films.
But nonetheless, China is a place no-one feels they can ignore.
For the first time in 15 years, the trade fair featured an "American Pavillion" grouping more than 20 US companies, organised by the Independent Film and TV Alliance and funded in part by the US government.
"The region now has a market that commands the attention of buyers and sellers," said Jonathan Wolf, the IFTA's executive vice-president.
We've been telling our members that they need to be here," he added.
Potential
China's box office takings surged 64% last year to reach $1.55bn in tickets sold and that figure could reach $2bn in 2011.
"There is a significant and growing segment of the Chinese population that wants to see movies as they are intended, in the cinema," says Rance Pow, founder and president of Artisan Gateway, a Shanghai-based industry consultancy.
And with only 6,300 cinema screens compared with 40,000 in the US, potential for future growth is tremendous.
The main obstacle for foreign players is that China favours home-grown movies and imposes a strict limit of 20 foreign films that can be shown a year, usually big Hollywood blockbusters like Avatar.
Devin Carter, vice-president for sales at US independent film distributor Koan Inc, says his firm has sold only 14 out of a total of 1,000 movies in China over the past 14 years, mainly for television rights.
"If China relaxes its quotas, we're going to be right on it," he says.
The World Trade Organization ruled in December 2009 that China should allow more imported films to be released in movie theatres, but a 19 March deadline to comply with the ruling passed quietly.
But even if the restrictions are removed, Mr Wolf is sanguine about the prospects of the companies he represents.
"We have heard rumours that it's going from 20 to 40, but that's meaningless for the independent film industry, it just means that 40 studio films will go into China instead of 20," he says.
Co-operation
With Chinese investment or co-operation, some films can be released outside of the 20-slot quota and and Hollywood has been pursuing these kinds of deals with renewed vigour.
These projects usually have a Chinese theme, subject matter or setting, such as the 2010 remake of The Karate Kid set in Beijing, which was part financed by Chinese government.
Last year, Fox International produced and financed its first Chinese language film with Huayi Brothers Media. The romantic comedy Hot Summer Days was released around Valentine's Day.
And, according to the Hollywood Reporter, Doug Liman, the director of The Bourne Identity, is joining forces with a Chinese production company on a drama about a British bodyguard to Sun Yat-Sen, who led the overthrow of China's last dynasty.
Pirates and censors
Ms Soya, at the Japanese film promotion body UniJapan, says government censors are another reason deterring entertainment companies from doing business in China.
She says that Japanese firms have spent months negotiating deals with Chinese companies, only for them to fall apart at the last minute and without notice because of government censors.
But piracy presents the biggest challenge to the Chinese film industry. DVDs of the latest Hollywood movies are often available before their first release.
Mr Carter at Roan Inc says the sample DVDs he sends to potential customers end up on the internet before his clients even set eyes on them.
Tastes
The success of Avatar, which took $212m at the box office in China, is offered by many as evidence that US movies would thrive should the quotas be removed, but not everyone is so sure.
Mr Wolf says it is not yet clear whether Chinese audiences will prefer domestically produced movies, like their Indian counterparts, or whether it will welcome foreign films, should China open its doors wider.
"In a sense, Avatar was an anomaly. The visual was a big part of the experience, it faced fewer lip syncing and dubbing issues," he says.
China is taking strides to develop its own movie industry to ensure its survival once the market is liberalised and as it tries to boost consumption.
Last year, China made about 205 films that were released in cinemas and it hopes to double the value of its entertainment and other cultural industries to nearly three trillion yuan ($457bn; £282bn) within the next five years.
"China is very protective of its markets," says Tim Kwok, who both produces films and runs his own film distribution company.
"It wants to wait till there's a level playing field for its own film makers and make a mark with its own cinema before opening up and that's something I totally understand."
"But as a distributor, it's very difficult."