BAA plans £50m Heathrow investment to avoid snow chaos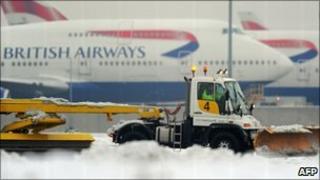 Airports operator BAA has promised a £50m investment at Heathrow to avoid a repeat of December's snow chaos.
It follows a report, commissioned by the company, which accused BAA of a breakdown in communication and lack of "preparedness" for the bad weather.
The Winter Resilience Enquiry Report also said some airlines had failed to comply with rules on compensation and assistance to passengers.
Some 4,000 flights were cancelled during five days of heavy snowfall.
The report, chaired by one of BAA's non-executive directors, transport specialist Professor David Begg, said there was significant room for improvement across the Heathrow operation - from executive decision-making to the responsibilities of ground staff.
The report says:
The potential impact of bad weather was "not fully anticipated"
Airlines and BAA had no agreed procedure for dealing with such a situation
BAA did not have some of the necessary equipment
There was a failure of communication within BAA, and with airlines
Confused and conflicting messages were given to passengers.
Many passengers "were left in distress" as some airlines did not fulfil their obligations when flights were cancelled or delayed.
The report estimated that 9,500 passengers spent the night in Heathrow terminals on 18 December, the first day of the crisis.
Blankets and water were provided to some, but not all passengers.
Many passengers sought refuge in the subways leading to the London Underground and Heathrow Express train stations, the report said.
Around 5,600 passengers spent the night in terminals on the second night of the crisis.
No repeat
The report makes 14 recommendations, which focus on improving crisis management procedures and establishing a "snow plan" which sets out specific responsibilities for BAA, airlines, the regulator, and air traffic control.
BAA said it would implement the recommendations, and spend about £50m on improving procedures, training, and equipment.
Colin Matthews, chief executive, said: "If the entire Heathrow community learns from this report, and works more collaboratively to promote passengers' interests, then this is a pivotal moment for the airport and its reputation."
But Mr Matthews said that ensuring there was no repeat was not just about more investment, but also about setting the right "leadership tone", he told the BBC.