Budget 2011: Flat-rate state pension planned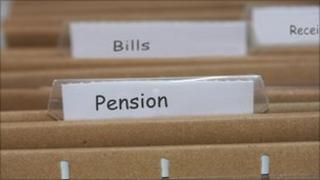 A plan for a £140 a week flat-rate state pension has been confirmed for the first time by the government.
Chancellor George Osborne outlined the specific amount in his Budget speech.
But significantly, he said the new system would not apply to the millions of people already being paid a state pension.
The change would take many years to come into force, and key details - such as whether the £140 will rise with inflation - are still to be revealed.
The current full state pension is £97.65 a week for men and women.
This is topped up for the poorest in society to provide a guaranteed minimum income of £132.60 for a single person, or £202.40 for couples, through the means-tested pensions credit.
The state pension age is already set to be increased in response to people living longer, with the default retirement age being abolished in October.
'Higher level'
The government gave no details in its Budget document - known as the red book - about how a single, flat-rate, state pension would be brought in.
But it is clear that it will mean the abolition of the current state second pension to which many people contribute.
"It is not clear to working age individuals what they might receive from the state, in particular from the state second pension, making it difficult to plan retirement saving," the Treasury said in the red book.
"The government will look to reform the state pension for future pensioners so that it provides simple, contributory, flat-rate support above the level of the means-tested guarantee credit," it added.
Consultation by the Department for Work and Pensions (DWP) will start shortly.
But one important wrinkle that will need to be ironed out will be the effect on people in company final-salary pension schemes which are contracted out of the state second pension.
People in contracted out schemes pay lower National Insurance contributions as a result.
If schemes and their members are contracted back into the state system then these contributions may have to rise.
"The government will honour contributions to the current system," the red book stated.