Property market 'still subdued', lenders say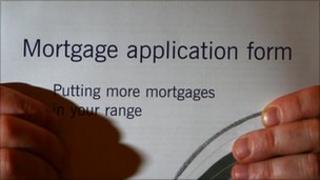 New figures have confirmed that the property market is still very subdued.
The British Bankers' Association (BBA) said the number of new mortgages its members had approved for homebuyers had risen by 3% in February, to 29,923.
However that was still 11% fewer than a year ago.
Meanwhile HM Revenue and Customs (HMRC) said 57,000 homes had been sold in the UK in February, 4,000 higher than in January, but slightly fewer than in the same month a year ago.
"Mortgage lending remains subdued, with only remortgaging on an upward trend, as borrowers lock into lower rate products currently available," said the BBA's statistics director, David Dooks.
"Household demand for unsecured credit is also weak, as people continue to cut back on borrowing and build up deposits," he added.
Howard Archer at Global Insight said: "The housing market clearly is still very weak which does not bode well for house prices."
"We believe housing market activity and house prices will remain under pressure for some time to come from high unemployment, negative real income growth, the increasing fiscal squeeze, very low consumer confidence, and ongoing difficulties in getting a mortgage, particularly for first time buyers," he added.