Bwin yearly revenues up ahead of Partygaming merger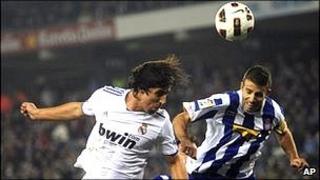 Austrian online gaming firm Bwin has said revenues were up 15.2% to 514.6m euros (£446m; $723m) in 2010.
The firm offers sports betting, poker and casino games, with 20 million customers in more than 25 core markets.
It also said in the last financial quarter, it established itself as one of the leading poker providers in France and a top three player in Italy.
Bwin also said that its planned merger with Partygaming was on track to complete by April.
Football clubs
Last year, the firms revealed plans to merge, in a deal to create the world's largest online gaming business.
Bwin sponsors a number of football clubs, including Real Madrid in Spain.
The firm said it would continue to seek out similar long-term alliances.
"Bwin's brand has become synonymous with sport through its sponsorship of some of the world's biggest names in sport, such as Real Madrid and Bayern Munich," it said.
"Its long-standing co-operation with soccer clubs like these and the Italian and Portuguese soccer leagues testify to the company's continuing commitment to top soccer."