Sainsbury's shares fall as sales growth disappoints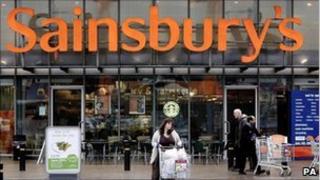 Shares in the UK's third-biggest supermarket group, Sainsbury's, ended Wednesday 5.4% lower after a disappointing trading update.
Like-for-like sales for the fourth quarter were up by 1%, below market expectations, and against growth of 3.6% in the previous quarter.
Like-for-like sales in the full year to 19 March, excluding fuel, were up 2.3%.
Chief executive Justin King said the trading environment was tough and said consumers were feeling squeezed.
Store programme
Mr King said customers were "facing fuel price inflation, uncertain employment prospects and government spending cuts".
Sainsbury's has almost 900 stores in the UK and employs 150,000 people.
During the fourth quarter the firm opened three new supermarkets, including two replacement stores, one store extension and 21 convenience stores.
In late morning trading the shares, which had been down 6% at one point, were behind by 20p at 334.30p.
Rivals Tesco and Morrisons also saw their shares fall, by 2.4% and 2.17%.
'Wary'
Mr King said that the tough economic times meant customers were managing their spending carefully
"The consumer is wary of the future," Mr King told the BBC Radio 4 Today programme, ahead of the Budget announcement later.
"They expect tax rises, cuts, so we are now looking to the future; for government to show us how things get better in time.
"We are looking for a confirmation that the worst of the news that the chancellor needs to give us was given last year."