Insider trading: Ex-Intel man 'tipped' Raj Rajaratnam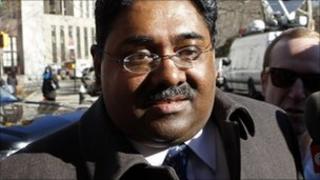 A former Intel executive has said that he passed company information to his friend Raj Rajaratnam in the biggest Wall Street insider-trading trial in decades.
Rajiv Goel made the claims as a witness for the prosecution.
Former billionaire hedge-fund manager Mr Rajaratnam is accused of making more than $45m (£28m) by illegally trading on insider information.
Mr Rajaratnam denies all charges.
Close ties
Mr Rajaratnam was arrested in October 2009, and has been freed on bail of $100m.
Should he be found guilty then he may face a prison sentence of more than 20 years.
Prosecutors have called the case the "largest hedge fund insider trading case in history".
They claim that Mr Rajaratnam used a network of contacts to get information that allowed him to make illegal profits from stock trades.
Mr Goel is described as a close friend of Mr Rajaratnam who told him the details of a business deal days before they became public knowledge.
"I was afraid I was doing something where, if it turns out to be wrong, it will have a bearing on the friendship," Mr Goel said in a Manhattan court room.
So far more than two dozen people have been criminally or civilly charged in the case.
They include staff at some of America's biggest companies, including IBM and Intel.
As of now, 19 have pleaded guilty.
Prosecutors have said in a letter to the judge that they intend to call Goldman Sachs chief executive Lloyd Blankfein to testify in the case.