Inflation cutting savers' options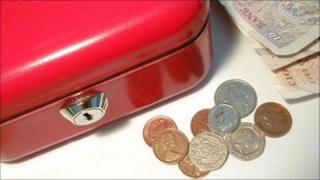 Savers face an increasingly tricky search to find accounts that protect their funds from inflation erosion.
Basic rate taxpayers can choose from just eight savings accounts that negate the effects of inflation, financial information service Moneyfacts said.
No such option exists for higher rate taxpayers, who would require an account paying 7.3%, it said.
The Retail Prices Index (RPI) measure of inflation was at its highest level for 20 years in February.
The measure - which includes mortgage interest payments - rose from 5.1% in January to 5.5%.
Driven by the rising cost of food, fuel and clothing, the Consumer Prices Index (CPI) annual rate of inflation rose to 4.4%, up from 4%.
'Misery'
The latest rise in inflation meant a basic rate taxpayer needed to find a savings account paying 5.5% a year in order to stop their savings pot effectively eroding away, of which only eight are currently available, Moneyfacts said.
A higher rate taxpayer would require an account paying 7.3%, of which there were no accounts available.
None of the accounts currently on the market pay a rate high enough for any taxpayer to beat RPI inflation, the information group said.
The rising rate of inflation comes at the same time as the Bank rate continues at a record low of 0.5%.
"The continual rise in inflation compounds the misery of pensioners relying on savings to supplement their income," said Sylvia Waycot, of Moneyfacts.
"People trying to save a deposit for a first home will see inflation eating into their hard-earned savings faster than it grows, unless they seek out the few accounts that can keep pace with inflation.
"Over the last six months, the number of savings accounts that beat inflation for basic rate taxpayers has dropped successively from 118 to only eight today - all of which are fixed-rate Individual Savings Accounts (Isas)."
Debts
Some providers have launched various "inflation-rate bond" products into the market in recent times.
These track the inflation rate and pay a rate of interest at the end of the year. Investors money is tied into these accounts, and so the interest paid can fall if the inflation rate drops in subsequent months.
High inflation and low interest rates do ease the pressure on those with high debts, as the amount that is owed is eaten away in the same way as a nest egg of savings is affected by inflation.
For savers who accept rates will not beat inflation, there is some cheer in the level of competition in the market, according to one price comparison website.
Kevin Mountford, of Moneysupermarket.com, said that the margin between the Bank rate and the interest paid by savings accounts was actually very high at present.
"We are currently seeing healthy competition in the savings market, with banks and building societies fighting for funds," he said.