Public borrowing hits record high for month of February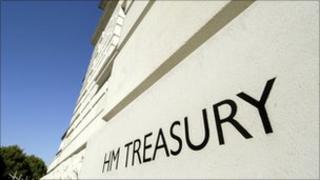 Public sector borrowing last month was £11.8bn, a record for the month of February.
The official figure, provided by the Office for National Statistics, was nearly double the £6.9bn forecast by economists.
Public sector net borrowing now stands at £123.5bn for the financial year so far.
This suggests the government remains on course to meet the £149bn borrowing total forecast for the full year.
That figure comes from the government-appointed Office for Budget Responsibility (OBR).
Net debt, which is the sum of all borrowing, was £875.8bn, the ONS said. That is equivalent to 58% of GDP or total economic output.
This time last year, the total was £729.9bn, or 50.8% of GDP.
"The public finance numbers for February were significantly worse than expected," said James Knightley from ING.
"Admittedly, recent numbers have been better than hoped, but today's outcome further reduces the likelihood of any formal giveaway in tomorrow's Budget."
'Sweetener'
Although the year's public borrowing is forecast to dip below official estimates, there have been calls for Chancellor George Osborne to resist a watering down its spending cuts in Wednesday's Budget.
"The Treasury needs to resist the temptation to utilise the windfall to provide a little sweetener to the bitter pill of fiscal retrenchment," said Andrew Goodwin, senior economic advisor to the Ernst & Young Item Club on Monday.
The BBC understands that he will announce a tax on private jet flights as part of plans to try to bring in more money to the Treasury's coffers to help cut the budget deficit.
It is believed Mr Osborne wants to raise an extra £1bn a year by clamping down on tax loopholes and targeting the wealthy and businesses.
Travellers using corporate jets currently do not have to pay any duty.
The chancellor will consult on whether to extend air passenger duty to private jets or introduce a new tax on them.
Labour said the rise in government borrowing "underlined" its warning on reducing the deficit.
"It's harder to get the deficit down if cuts which go too far and too fast cause confidence to fall, unemployment to rise again and growth to slow right down," said Angela Eagle MP, Labour's shadow chief secretary to the Treasury.
The British Chambers of Commerce said it was "important that the government perseveres with its tough approach".
However, it did offer a cautious warning.
"Such measures will not suffice on their own," said David Kern, BCC chief economist. "The strategy will only succeed if the austerity measures are backed by effective policies that enable businesses to create jobs and deliver growth."